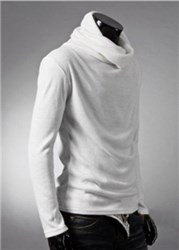 (PRWEB) November 28, 2013
Recently, 4leafcity.com, an online shop that is famous for its high quality clothes for both men and women, has released its new selection of men's clothing. The fresh range includes long sleeve shirts, jackets, suits, leather jackets, windbreaker jackets, skinny jeans and many others. Additionally, these products are now available at discounted prices, up to 40% off.
"We are proud to unveil our discounted men's clothing. As one of the world's leading clothing manufacturers and retailers, we are always trying hard to offer classy clothes for customers around the globe. You know, in the cold winter, such items as leather jackets are essential. Our products never go out of season. On our website, you can get the most fashionable items. If you are interested in men's clothes for winter, please visit our website now."
Nowadays, the men's clothing products are in great demand even in the global market. They are especially popular for hot designs, high quality and affordable prices. As a response to this reality, the company decided to create more items. All its clothes are manufactured by the company's top designers.
In addition to men's clothes, the company also specializes in wedding dresses, women's special occasion dresses as well as wedding accessories. It aims to supply best products to worldwide clients at low rates.
About 4leafcity.com
4leafcity.com was founded in 2009 and serves more than 5000 customers from every part of the world. It is one of the leading suppliers of men's and women's clothes, helping the people worldwide develop self-esteem, confidence and love of learning. For a full list of services and to learn more about 4leafcity.com, please visit http://www.4leafcity.com/product-men-s-clothing-009.aspx.