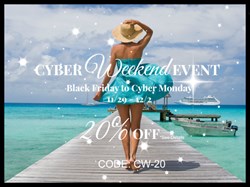 Cyber Weekend takes the stress out of shopping for the best Black Friday or Cyber Monday Deals.
San Francisco, CA (PRWEB) November 27, 2013
The Cyber Weekend Sale takes the stress out of shopping for the best Black Friday or Cyber Monday Deals by offering a 4-day 20 percent off sale for all sun hats, cruise / resort wear and accessories (some restrictions apply). Consumers are bombarded with so many offers from retailers during this time of the year and many are wondering if they shop on Black Friday will the deals be better on Cyber Monday. "We want our customers to feel confident they are getting a great deal all weekend and have the time to make the right purchasing decisions. An all weekend sale facilitates this," says Rakel, owner of SolEscapes.com.
The Cyber Weekend Sale is a great opportunity for Christmas shoppers to shop for all the people on their list but also a great time to get ready for their warm weather getaways. Christmas and New Years is a popular time for a tropical family beach vacation or Caribbean cruise. SolEscapes offers great products to make travel easier with items such as stylish compact travel towels, packable sun hats, a great selection of sun protection hats and clothing along with gorgeous resort chic jewelry and other asseccories.
Beach and cruise lovers enjoy receiving gifts they can use on their upcoming travels. SolEscapes' compact yet oversized Travel Lux Microfiber Beach & Pool Towels in a beautiful sea life print makes a fantastic gift. An exquisite colorful leather and gold necklace, a luxurious scarf, beach tote, fashionable sun umbrella and organic sunscreen are also perfect for gift giving.
SolEscapes also offers e-gift certificates and paper gift certificates for a one-size-fits all Christmas stocking or under the tree gift. The gift recipient can pick out the perfect glamorous sun hat, stylish sunglasses or swim shirts in the color, style and size they prefer.
SolEscapes is a California based online boutique offering a unique selection of stylish and practical sun, beach and resort essentials for all your warm weather needs. SolEscapes offers personalized service, high quality products and fast affordable shipping. Merchandise is carefully and beautifully packaged to ensure a perfect arrival. For more information please visit SolEscapes.com. You can also connect with SolEscapes on Facebook, Twitter and Pinterest.