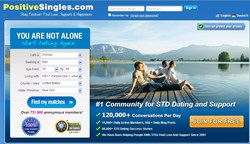 Los Angeles, CA (PRWEB) November 28, 2013
The CDC estimates that every year in the United States 776,000 people become infected with new herpes infections, according to its survey in February, 2013. At least 45 million American adults and adolescents suffer from genital herpes. That statistic means that one out of every four to five people have genital herpes, making it one of the most common sexually transmitted diseases. The number of Americans with genital herpes infections has increased 30% since the last 1970s. This increase has been seen mostly in teens and young adults.
In light of these shocking figures, PositiveSingles.com held a survey about "what members are looking for when they use the site" in November. A total of 23,563 members took part in the survey. About 98.63% of members expressed that they signed up on PositiveSingles.com looking for a serious relationship. They expected to find their soul mates and step into the married life. Most of them said that since they became infected with herpes, their attitudes about dating and life had changed. They started to take things more seriously than ever before. "Now I care more about happiness in heart." said one of the anonymous members.
At the same time, there are still 1.37% of members who are only looking for a sexual encounter. Did they make an effort to change their lifestyles into a healthier one? No, unfortunately, they did not. Some members said they are just dispirited by their lives, so they just didn't bother. It didn't seem worth it to them.
"When I told my partners that I had herpes, they could not accept it," one of the members on PositiveSingles said. Many of the members do not have much courage to find their soul mates now because of feeling discouraged by their illness. But they also expressed that they would inform future potential partners that they had herpes before beginning a sexual liaison with them.
Many members on PositiveSingles who have herpes are hopeful to find a serious relationship on the site, settle down and get married to someone who understands their illness. A very small amount are still not looking for a serious relationship, but just hope to "hook up" and find someone to spend some time with.