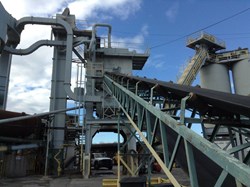 The plant will be sold 'as is' and must be moved from San Francisco.
San Francisco, California (PRWEB) November 26, 2013
The City of San Francisco, in conjunction with 1st Capitol Auction of Vallejo, Calif., will auction the City's asphalt plant on Dec. 17. This will be a no minimum, no reserve auction, meaning that the high bidder will own the plant. The plant is located at Jerrod and Quint Streets.
The equipment, to be auctioned, consists of a Stan Steel RM 30 batch tower (120 tons per hour), Symons screen deck, solenoids and Air Rams load cells, 7' by 28' dryer, bag house (Stan Steel 578 15' by 6" bags system), two cold stone elevators, a hot stone elevator, cyclone dust collector, related air ducts, electrical M.C.P. operations, GENCOR burner, original M.C.C. electrical room, two GENCOR silos (with related equipment), Weigh-tronix scale (100,000 lb. cap.), five 200-ton aggregate holding bins, and five obsolete underground storage tanks with related plumbing (14,000 gal. cap.).
The plant will be sold "as is" and must be moved from San Francisco. The plant was operational, until two years ago. Videos of the plant can be viewed on YouTube by searching "1stCapitolAuction." Appointments to inspect the plant are available from Dec. 9 – 13 by calling 707-552-0739, during business hours.
Interested bidders can visit http://www.1stcapitolauction.com to place a bid, using the absentee bidding platform. Auction terms and conditions are specified on this website and must be read and agreed to, prior to submitting a bid.
This one-lot sale closes on Dec. 17 at 1 p.m. (PST). To be considered, bids must be submitted in entirety by this deadline. The high bidder will win the lot of this no minimum, no reserve auction. Inquiries may be directed to 1st Capitol at 707-552-0739.
1st Capitol Auction is a 27-year-old Vallejo-based heavy equipment auction company, operated by its original founders. The company specializes in heavy equipment and works closely with government agencies, rental companies, municipalities and other sellers and buyers of heavy equipment.