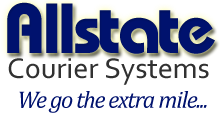 Allstate Courier Systems is a qualified medical courier meeting all the stringent compliance regulations to transport medical materials.
Boston, Massachusetts (PRWEB) December 05, 2013
Everyone knows that healthcare is big business in the US with a lot of money changing hands on a daily basis. It's not just money being moved though. In order to keep the business of healthcare operational, critical information and substances must be transported. From medical records to x-rays and even biological substances, the healthcare industry relies on medical courier services operated by qualified professionals to move medical materials quickly and safely.
Allstate Courier Systems is a qualified medical courier service that meets all the stringent compliance regulations to transport medical materials. They are located in Quincy, Massachusetts and operate throughout the New England region.
In October 2013, Allstate Courier was featured on a PBS Frontline documentary. The documentary, titled "League of Denial: The NFL's Concussion Crisis," discussed the mounting concern over the head injuries of current and retired NFL players. The entire film can be viewed here on PBS.org and you can view the short clip featuring Allstate Courier on Youtube.
One segment of the documentary highlights the studies completed on the brains of deceased NFL players who allow their bodies to be researched. In this scene, an Allstate Courier driver delivers a human brain to a lab for study.
Candice Painter, owner of Allstate Courier said, "The most important considerations for transporting a brain for research is they need to go stat, meaning the transport time is critical, and just as important is maintaining the appropriate temperatures during transport. This goes for blood and other specimens as well."
A human brain delivery is not a common delivery for Allstate Courier. Most of their medical deliveries are medical specimens such as blood and tissue samples. Their biggest customers for these types of deliveries are labs, hospitals, doctors offices, and IVF centers.
About Allstate Courier Systems
Founded in 2003 and located in Quincy, Massachusetts, Allstate Courier works out of a 2,000 square foot facility which allows them to handle all types of freight. They bring a fresh customer-focused approach to the courier market in the New England area. Their philosophy is to be flexible enough to meet the needs of a diverse customer base while maintaining a high level of professionalism throughout the entire organization.
Allstate Courier specializes in medical courier service but also provides a full scope of delivery services.
Get more information on Allstate Courier at AllstateCouriers.com. They are planning a relaunch of their website in partnership with WebEminence.com in 2014.