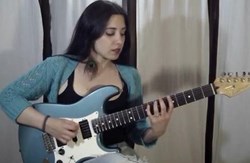 (PRWEB) November 27, 2013
In this lead guitar lesson, now available on YouTube.com, Alejandra Mesliuk teaches how to play the Harmonic Minor Scale and its related chords.
The harmonic minor scale, sometimes referred to as the Mohammedan Scale, is commonly found in Middle Eastern Music. It is called Nahawand-Hijaz in Arabic nomenclature and Bûselik Hicaz in Turkish nomenclature. It has a raised 7th tone making an augmented second between the 6th and 7th tones. The 7th tone is the leading tone to the tonic, much like the major scale. The order of intervals for the harmonic minor scale in steps are; whole, half, whole, half, whole and a half, half.
Alejandra demonstrates the scale in the key of A Minor and explains that a natural minor scale has a flat 7 and that harmonic minor scale has a raised 7, she demonstrates 5 patterns of harmonic minor in different positions of the fret board. The first position she demonstrates starting on the 5th fret of the 6th string, second position also starting on 5th fret of 6th string, third position starting on 7th fret of 4th string, fourth position starting at 12th fret of 5th string, and finally, the 5th position also starting on 12th fret of 5th string. Alejandra also demonstrates the associated chords to the harmonic minor scale as; AmM7, Bm7b5 (flat 5), CM7#5, Dm7, E7, FM7, and G#dim7. Guitar TAB's for this guitar lesson are available at GuitarControl.com
Alejandra Mesliuk
Alejandra Mesliuk is from Buenos Aires Argentina. She studied jazz guitar harmony and under the method in Temperley Berklee School of Music by Ariel Ferreyrola. She has been an area teacher and clinician for the last 10 years in electric guitar, classical, and musical language. She is currently working on a solo album.
About GuitarControl.com
GuitarControl.com is the leader in modern guitar instruction. It's packed with recourses including articles, video lessons, and the best videos in the business for the beginner to the advanced guitar student taught by the best instructors out there. Whether you are into the blues, rock, jazz, metal, folk, or anything in between, they have you covered.