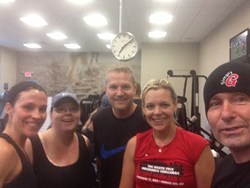 "This will be a very competitive competition," said Haley. "Both participants have the tools necessary to win."
Kansas City, MO (PRWEB) November 27, 2013
Neil Haley, The Total Tutor and host of the SimplyG Media Network's Beachlifestyle Radio Show, recently interviewed successful entrepreneurs Bryan Vignery and GJ Reynolds about their new Body By Vi 90 Day Health Challenge.
"This will be a very competitive competition," said Haley. "Both participants have the tools necessary to win."
Visalus Five Star Ambassador and author GJ Reynolds knows how to grow and knows how to set the bar high. He has worked out for 880 days straight and is the best shape of his life. Even though Reynolds is 52, he still believes he can transform his body.
Bryan Vignery, who is a licensed counselor and entrepreneur, knows how important getting in shape is. A man of 40-plus years old, Vignery has inspired many people to get in shape and lose weight by setting an excellent example. He has lost 25 pounds and, according to Vignery, feels like a twenty year old.
On the Nationally Syndicated Beachlifestyle Radio Show, Vignery challenged Reynolds to a Six Pack Challenge. When the next 90 days are up, the winner of the challenge will be the person who has the best looking abs.
Reynolds and Vignery discussed the ways they are going to transform their bodies. "I have to make a few changes in my workout plan," said Reynolds. "I am already choosing to eat healthy. I am choosing to make a few additional changes."
Haley asked Vignery what inspired him to take on this challenge. "I have been inspired by wife's transformation," said Vignery. "Stephanie transformed her body so she would be a Visalus Vi Model. I was amazed by her transformation and dedication. I want to inspire my team and friends the same way she has inspired others."
Reynolds, who has been part of many Visalus Body By Vi 90 Day Challenges, said, "Once you go public, you will have accountability partners to keep you going. I choose to make the challenge fun by using social media and conversations to inspire others to get up and start their new challenge."
Who will win the Six Pack Challenge? To keep up with their progress, please go to http://www.simplyg.com and http://www.intentionalchallenge.com/.