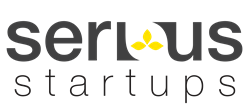 We're looking for great ideas to build for equity. Don't worry about raising capital. Convince us of the concept.
Nashville, TN (PRWEB) November 27, 2013
Following a successful launch event with over 30 ideas submitted and 3 currently under development, hybrid interactive agency and investment company Serious Startups, is actively accepting new ideas to be built for an equity position instead of upfront capital.
Serious Startups was proud to announce deals with 3 ideas that were part of their October pitch event, and are searching for the next round of startups to consider.
They are looking for niche business mobile and web application concepts, online business concepts, and content focused website ideas which can be turned into recurring revenue business models.
"Our entire reason for existence is to help startup founders with great idea bridge the gap between the idea stage and gaining investors," said CEO John Maddox. "It's very difficult to convince Angel Investors or Venture Capitalists to give seed stage funding without a true minimum viable product."
Several large scale investment groups have expressed interest in formal partnerships with Serious Startups as a way to help founders turn ideas into reality while also mitigating investment risk. A significant number of startups are turned down for early stage investment because of a lack of marketing and technology experts as co-founders.
When asked about reviewing more ideas, John Maddox said. "These partnerships will allow us to take on more ventures than we had previously thought possible. It's a great position to be in, and very beneficial to everyone involved. From founders to investors. We're looking forward to hearing even more great concepts."
The process for idea review and consultation is quite simple. Individuals with ideas must visit http://seriousstartups.com and submit an overview of the concept for review. A formal meeting will be set up following idea submission for consulting and pitch.
All ideas submitted will receive 1 hour of consulting with high level professionals to both consider the concept build for equity, in addition to valuable information should their idea not be selected.
Serious Startups was founded in 2013 by John Maddox and is comprised of a group of tech industry veterans with decades of combined experience. The tech startup investment company specializes in bridging the gap from seed stage to large-scale capital investment. Covering all aspects of a tech startup process, Serious Startups prides itself in handling all facets of the process and executing all tasks in house, exercising time management while ensuring quality control. To learn more about this unique approach to tech startup, please visit http://www.seriousstartups.com or call 615.429.1986.