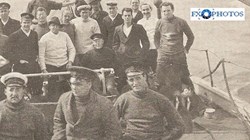 Stunning effect that really brings historic photos to life.
(PRWEB UK) 3 December 2013
Further to working on the Sir Ernest Shackleton centenary project it posed a challenge to bring interactivity and video content to still photos almost a hundred years old. View some examples on http://www.fxphotos.co.uk.
After some interactive workshops a concept was created using animation and photo editing, this was further progressed by our web design team to discover the technique and how best to adapt to different styles of photographs.
Initially working on the famous photograph of the Endurance crew and Sir Ernest Shackleton from the heroic Antarctic mission. Editing of the photo and animation using After Effects the photo was brought to life with a motion effect to identify the members of the crew and their job on board the ship. Click here to watch the video >
Since this has been developed a number of other videos have been created from historical photos and some recent ones to make still photos more interesting when mixed with actual video footage. Working especially well with wedding photos, also adding music it has made the photos more engaging and moving.
iQ interactive have worked with a number of historical organizations and are always looking for projects to work on where old photos are available and some interactivity, animation and movement would enhance the presentation.
Other examples have included animating a footballer from the 1940's, a tribute to John Lennon and a hotel, chateaux and vineyard. View some more examples at http://www.fxphotos.co.uk with contact information and social media links.