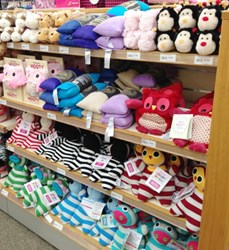 Intelex's products [...] are starting to garner international media attention as well, with the Cozy Plush™ Warmies range appearing on Italian TV Station Mediaset and QVC in the US.
(PRWEB UK) 27 November 2013
Retailers keen to take advantage of Intelex's best-selling brands like Cozy Plush™, Socky Dolls™ and Hooty™ are now able to tailor products to offer a bespoke version exclusive to their store.
The Intelex Group have been creating heatable products since 1995. The creation of the first ever Hot Pak® revolutionised the market world-wide and remains a best seller to this day. Since then Intelex have gone on to lead the industry in safety standards and innovation, creating a significant portfolio of personal warming products including boots, slippers and neck wraps along with a comprehensive collection of heatable plush toys.
Philip Gannon, founder of the Intelex Group says, "The last few years has seen substantial growth in the heatable product sector. We've been proud to have contributed significantly to this growth. We've pushed our innovation agenda hard, bringing to market a range of exciting new products that are meeting consumers demand for both fun and functional products. We've had success with retailers like Debenhams, River Island and Sainsbury's for whom we are now creating bespoke ranges that are tailored to suit the needs of their customers. This is a growing area of the business that we intend to make more widely available in 2014."
Recently, Intelex's bespoke Knitted Warmers™ range for Debenhams was featured on the popular ITV's 'This Morning' programme. The warmable toys were featured as part of an alternative guide to staying warm this winter. With gas and electricity prices predicted to rise over the coming months, products like Intelex's microwavable plush toys offer an affordable way to stay warm and cosy in the home.
Intelex's products not only have wide ranging appeal to both youngsters and adults, but the products are starting to garner international media attention as well, with the Cozy Plush™ Warmies range appearing on Italian TV Station Mediaset and QVC in the USA.
Whilst the portfolio of warmable toy products includes Intelex's own branded ranges of Hooty™ Socky Dolls™, Knitted Warmers™ and Warmhearts® (to name a few), Intelex have also brought to market a number of popular licensed ranges including Bagpuss®, Gromit™, Boofle™ and the wildly popular YooHoo and Friends™.
"There's no doubt about the rising demand for dual purpose products. Whether it's a play toy for a child that doubles up as a snuggly bed warmer at night, or a nostalgic soft toy like Bagpuss® that can be warmed and used by an adult to soothe and ease aches and pains, the appeal seems to be universal."
Consumers can anticipate more new novelties from Intelex in 2014. The innovation agenda will be an exciting one, with many new products planned in the pipeline, from range extensions on best-sellers to brand new lines. Retailers wishing to create a bespoke range can call the Intelex team on 01933 679 777 to discuss requirements.
To learn more about Intelex or buy products online, please visit http://www.intelex.co.uk.