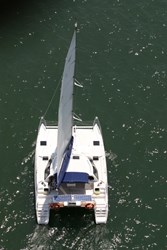 We provide excellent food and visit special 'secret' locations. I own the Dream On too and I'm not just the driver, so you can be sure that the trip will be everything you expected and more.
Brisbane, Queensland (PRWEB) November 27, 2013
Jeff Bush established his Moreton Bay cruises business, Sail Moreton in March of last year.
Jeff is skipper, guide and chef on his boat the 'Dream On'.
Mr. Bush or as he is more commonly known, 'Bushy', has explored and sailed around Moreton Bay and its nearby islands for more than thirty years.
Bushy possesses intimate knowledge of the 'Bay' and this is just one of the reasons why his boat trips around Moreton are so unique and so popular.
The Brisbane based, Moreton Bay cruise specialist mainly sails from two areas which are Manly and Raby Bay.
Bushy's tips and knowledge of the island's history are:
1. Peel Island and Dunwich, on North Stradbroke Island
From 1907 to 1959 Peel Island was a leper colony and before that it was used as an asylum for Brisbane vagrants.
In 1959 the conditions were deemed too harsh and the inmates were moved to Dunwich on nearby Stradbroke Island.
During the mid 19th century Peel Island was used as a quarantine station for the colony of Brisbane.
Sailing ships would anchor to the north of the Island; the passengers would disembark on Peel Island for a quarantine period before moving on to Dunwich on nearby North Stradbroke Island.
2. St Helena Island
St Helena Island is Queensland's most historic island.
For more than sixty years and from 1867, St Helena Island was home to thousands of society's outcasts, for here was located colonial Queensland's foremost prison for men.
3. Bird and Goat Islands
Bird Island and Goat Island are so close together that they are considered by most people to be one island, and are often referred to as simply 'Bird and Goat'.
Bird is the northernmost of the two islands and these days it's bare of green vegetation, looking more like a sand flat than a typical island and a few dead trees are its only decoration.
A mere stone's throw to the south is Goat Island, a mangrove island with fantastic rocks on the south western corner.
The rocky corner is an excellent spot for fishing and as the tide floods in, all sorts of fish gather around the rocks to feed.
Many fish can be found in this area which include Trevally, Tailor, Longtoms and Bream.
4. Coochiemudlo Island
Although 'Coochie', (as the island is known locally), is only five square kilometres in size, it boasts more than 4km of beautiful safe beaches (which are ideal for children).
The name 'Coochiemudlo' refers to the red rock visible from the western side of the island.
"Coochie has been described as the jewel of Moreton Bay and is one of my favourites," said Jeff.
5. North Stradbroke Island
The first inhabitants arrived over 40,000 years ago and North Stradbroke Island is now home to the Noonuccal, Nughie and Goenpul Aboriginal people, who call it Minjerribah.
The first recorded European sighting was in 1770 when James Cook named it Point Lookout.
Colonial settlement began in the 1820′s.
6. Blakesley's Beach Anchorage (NSI)
Blakesley's is a delightful protected beach on the western side of NSI.
It is a lovely clean sandy beach where thousands of Soldier Crabs roam and is accessible by boat only.
7. Rainbow Channel
Consists of: Amity Banks (17.6km), Naval Reserve Bank (25.3km), South Bank (30.4km), North Bank (34.7km) and Hope Banks (35.6km).
A beautiful deep channel with high tide access across the weed banks where Dugong can sometimes be seen grazing.
"This area is paradise and superb for swimming. Rainbow is one of the best areas for snorkelling with lots of species of sea life regularly spotted here," said Bushy.
8. Southern Bay Islands
A group of islands which include: Macleay Island, Karragarra Island, Lamb Island and Russell Island.
"These islands are well equipped with shops and supermarkets and several thousand people call these islands home," advised Mr. Bush.
9. Amity Point
Amity Point is a small close knit township located on the north western point of North Stradbroke Island, Queensland, in Redland City.
At the 2006 census, Amity Point had a population of just 408.
Directly north is the South Passage and the southern tip of Moreton Island.
To the east lies the small town of Point Lookout and to the south is the main town of North Stradbroke Island (which is Dunwich).
Wallum Creek snakes along the southern border of the town and The Rainbow Channel lies directly adjacent to Amity Point in Moreton Bay.
When Jeff was asked what makes his Moreton Bay sailing trips different? He replied, "We provide excellent food and visit special 'secret' locations. I own the Dream On too and I'm not just the driver, so you can be sure that the trip will be everything you expected and more."
The luxury catamaran can cater for six to twenty guests for half or full day tours of Moreton Bay and the surrounding islands.
The 'Dream On' can also be hired for more intimate sailing trips overnight or even for a full week and Jeff can collect from other areas on request.
Bushy offer various boat trips around Moreton Bay including The Champagne Cruise which is a two hour sail around the Raby Bay Harbour.
Bushy's Moreton Bay half day sailing tours visit some of the Bay Islands including St Helena Island and King Island.
Sail Moreton Full Day Tours visit Peel Island, Bird Islet, Goat Island, North Stradbroke Island, Myoraand and Amity Sand Cays along the Rainbow Channel.
Jeff's overnight tour sails to all the same islands as a full day cruise and also includes Kooringal and the Sandhill's, and several delightful beaches along the inside of Moreton Island up to and including Tangalooma and the wrecks.
Prices start from $45 and for more information please visit http://www.sailmoretonbay.com.