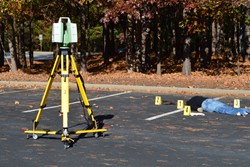 Laser scanners are the future of working crime scenes, with the ability to give a jury a better picture of what happened.
Norcross, GA (PRWEB) November 27, 2013
Leica Geosystems today announced that it will participate in the Dec. 7, 2013 fundraiser being held at the Central Florida Zoo in Sanford (north of Orlando) for Central Florida Crimeline, the anonymous crime tips hotline. Called "Zoo Dun It," the event will lead guests on a safari-style murder mystery through four mock crime scenes, where they will explore blood evidence, unearth skeletal remains, document personal effects near a "dead body," and collect forensic evidence such as DNA and fingerprints. Crime scene technicians from Seminole County Sheriff's Office, Lake County Sheriff's Office, Osceola County Sheriff's Office and Brevard County Sheriff's Office will demonstrate basic investigative procedures. A Leica ScanStation 3D laser scanner will be used to collect highly accurate measurement data at each scene.
"The event will give people an opportunity to learn what real-life crime scene processing is like and interact with law enforcement in a positive way," said Barb Bergin, executive director of Crimeline.
The Leica ScanStation 3D laser scanning technology is used globally by law enforcement agencies for crime scene investigations, vulnerability and threat assessments, post-blast investigations, police action inquiries, crash investigations and more. All Leica ScanStation laser scanners feature professional-grade construction, durability and weather resistance, renowned reliability, ease of use and documented admissibility in U.S. courts of law. (Learn more here.)
Bergin said the idea to use laser scanners at the event emerged following the recent trial of Jason Rodriguez, who was found guilty of first-degree murder and all counts of attempted murder in the Gateway Center shooting rampage in downtown Orlando in November 2009. Investigative work by the Orlando Police Department, which included the use of a Leica ScanStation laser scanner, played a key role in helping prosecutors secure a conviction in the case. "Laser scanners are the future of working crime scenes, with the ability to give a jury a better picture of what happened," Bergin said.
During the Crimeline fundraiser event on Dec. 7, Frank J. Hahnel III, a laser scanning specialist with Leica Geosystems, will provide technology demonstrations and answer questions. "It's an excellent opportunity for local law enforcement professionals to explore the capabilities of the technology," he said. "Leica Geosystems has a history of supporting law enforcement agencies on a wide range of projects. This fundraiser for Crimeline is a great chance for us to show that we also support local communities in their efforts to raise awareness and combat crime."
For more information about Leica Geosystems solutions for public safety, visit psg.leica-geosystems.us.
About Crimeline
Crimeline's mission is to increase the safety of the Central Florida community by assisting law enforcement agencies in removing undesirable individuals from the community. Crimeline seeks to furnish law enforcement agencies with information on crimes, criminals, and other criminal activity that they would otherwise be unable to obtain; to promote public cooperation and involvement with law enforcement and to reward such involvement; to improve police community relations through increased public awareness; and to prevent crimes before they are committed. As a nonprofit organization, Central Florida Crimeline relies heavily on support from individuals and businesses. For more information, visit http://www.crimeline.org.
Leica Geosystems – when it has to be right
With close to 200 years of pioneering solutions to measure the world, Leica Geosystems products and services are trusted by professionals worldwide to help them capture, analyze, and present spatial information. Leica Geosystems is best known for its broad array of products that capture accurately, model quickly, analyze easily, and visualize and present spatial information.
Those who use Leica Geosystems products every day trust them for their dependability, the value they deliver, and the superior customer support. Based in Heerbrugg, Switzerland, Leica Geosystems is a global company with tens of thousands of customers supported by more than 3,500 employees in 28 countries and hundreds of partners located in more than 120 countries around the world. Leica Geosystems is part of Hexagon, a leading global provider of design, measurement and visualization technologies that enable customers to design, measure and position objects, and process and present data.