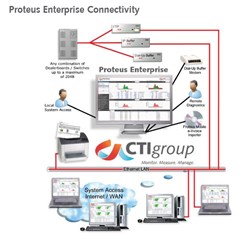 A company's telephone system is a mission critical investment and Proteus' powerful reporting and alerting capabilities help ensure companies gain optimal use and maximal cost efficiency of those systems.
Indianapolis, IN (PRWEB UK) 27 November 2013
CTI Group (Holdings) Inc. (OTCQB:CTIG), a leading developer of carrier-grade telecommunications solutions for fixed, mobile and converged communications, today announced the launch of Proteus 7.2, the latest version of its fully scalable hosted or premised-based call accounting solution for mobile, VoIP and TDM telephony systems.
Trevor Davis, Head of Product for CTI Group, stated: "This latest fully scalable version of Proteus brings it into line with the rest of our product portfolio by providing a comprehensive management and provisioning framework for delivering Proteus in the Cloud. Additionally, our Trader customers will gain major benefits from the improvements we've made, in particular through the new client database that provides storage and reporting of all client data and communications."
The Proteus 7.2 release includes four significant updates:

Proteus Trader, the solution for investment banks and trading companies, has received a major update to improve reporting of Trader Voice on the trading floor.
A new multi-tenant management solution provides Service Providers with a provisioning system that manages multiple customers within a hosted Proteus system.
Key features, such as the custom report tool and the Audit Trail, have been substantially improved.
Now operates on the latest Windows operating systems, SQL database and all current major browsers.
For further information about Proteus 7.2 and CTI Group's entire suite of call accounting solutions, please visit http://www.ctigroup.com/solutions/call-accounting-and-reporting/.
About CTI Group
CTI Group (Holdings) Inc. is an international provider of electronic invoice processing and management, enterprise communications management software and services solutions, and carrier class voice over internet protocol (VoIP) management applications. CTI Group's Analysis, SmartBill®, SmartRecord® and Proteus® product suites offer Carriers a full array of Cloud-based, real-time solutions for traffic analysis, post-billing call analysis, customer care and call recording. CTI Group's products are used by some of the top service providers in North America and the United Kingdom, and play a trusted role in managing telephony costs at major corporations internationally. Headquartered in Indianapolis, CTI Group maintains overseas offices in London and Blackburn, UK. For more information, please visit CTI Group's website at http://www.ctigroup.com.
Safe Harbor Statement
This release may contain "forward-looking" statements. Examples of forward-looking statements include, but are not limited to: (a) projections of revenue, capital expenditures, growth, prospects, dividends, capital structure and other financial matters; (b) statements of plans and objectives of CTI Group or its management or Board of Directors; (c) statements of future economic performance; (d) statements of assumptions underlying other statements and statements about CTI Group and its business relating to the future; and (e) any statements using the words "could", "should", "anticipate", "expect", "may", "project", "intend", "will", "believe" or similar expressions. CTI Group's ability to predict projected results or the effect of events on CTI Group's operating results is inherently uncertain. Forward-looking statements involve a number of risks, uncertainties and other factors that could cause actual results to differ materially from those discussed in this document. These factors include, but are not limited to: effects of current economic crisis, ability to attract and retain customers to purchase its products, ability to develop or launch new software products, technological advances by third parties and competition, ability to protect the Company's patented technology, ability to obtain settlements in connection with its patent enforcement activities and risks described in CTI Group's periodic reports filed with the U.S. Securities and Exchange Commission.