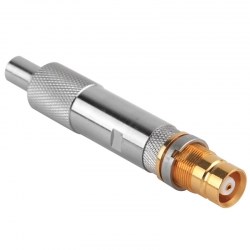 (PRWEB) November 29, 2013
Recently, RFcnn.com, the distinguished balun manufacturer and retailer, has unveiled its selection of E3 mini baluns. To show its gratitude to new and old customers, the company has also decided to offer discounts on these items. They are now offered at discounted rates, up to 34% off.
The company has been working in the industry for several years; it is now a balun expert. It understands that quality products and good service are very important to a business supplier. It has now updated its one-stop website with the E3 mini baluns. In addition, it has already improved its website to simplify the shopping process. This can save a lot of valuable time for online consumers. It always tries hard to create high end products for worldiwde customers.
"We are very happy to release our new products." The CEO of the company says, "We launch the special offer to acknowledge every client and strengthen our relationship with the customers throughout the world. It will come to an end on December 15, 2013. Customers who want to get nice E3 mini baluns can visit our website now."
About RFcnn.com
RFcnn.com is an online shop of Zhenjiang Fourstar Electronics Co. LTD, which is a China based company that aims to provide customers with high quality products at the lowest possible prices. Customers can try the company's products through sample orders with a long-term contract. Most customers come back soon after receiving their first deals.
More details about the company's high quality connectors can be found at http://www.rfcnn.com/Mini-Balun-1-6-5-6-L9-female-to-IDC-AWG24-26-RF-Connector-88.html.