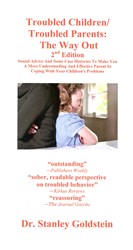 The unconscious is very powerful and one must respect its power.
Warwick, New York (PRWEB) December 03, 2013
Dr. Stanley Goldstein states that the recent release of further information about the Newtown school massacre and shooter by Connecticut's state's attorney has produced the usual expressions of incredulity. "Inexplicable" and "motive remains mystery" convey the public sentiments expressed for this horrendous event. Yet while the specific act—the Sandy Hook Elementary School massacre—could not have been predicted, Adam Lanza's murder of his mother and the mass killing and his suicide which followed can be easily understood using long accepted psychological knowledge.
In his book, Troubled Children/Troubled Parents: The Way Out, Second Edition, which is published by Wyston Books, Inc., Goldstein explains that all people have basic psychological abilities: the ability to control their thinking and their behavior; the ability to develop a sense of who they are, their "sense of self"; the ability to use feelings to make sound decisions; and the ability to distinguish fantasy from reality. While the germs of these capacities are innate, they require an adequate parenting to thrive. In this process the mother, or mothering figure who could be male, is most important during the first two years of a child's development while the father's role increases during the third year. He enables the child to break free from the symbiotic relationship with their mother and move into the larger world outside the family.
Goldstein states that this process ordinarily occurs without a hitch and as easily as a child learns to speak their native language. But if the parenting is inadequate, not "good enough," weaknesses may develop in these basic psychological abilities with some being inadequate. Thus the young child may have difficulty learning or interacting with peers, and later fail the tasks essential for adult functioning: appropriate separation from parents; exploring intimacy through dating; and the making of realistic educational and vocational choices.
Goldstein states that these failures cause anxiety because of psychological conflict and fears, and hopelessness and depression because of the sensed limitations and the depression of feelings. Self-esteem plummets since self-esteem largely reflects the mind's accurate assessment of its structural limitations which, in some of these youth, are considerable.
Then, like Lanza, the young person may attempt to reduce their anxiety by, unconsciously and without deliberation, using the obsessive-compulsive ego defense to create rigid routines. Or, like Lanza, they may isolate themselves to avoid viewing healthier, happy people for this would increase their distress. Or, like Lanza, they may attempt to control family members, being unable to control the psychological war going on inside of them.
Goldstein states that, as the young adult's frustration grows, so does their rage. And if unleashed, what target is more understandable than the parent(s) who, though without intention, contributed to the tragedy of their life? Moreover, lacking an authentic personality since this requires insight and the capacity to tolerate feelings, they may adopt the false identity of warrior, delusional though this is. Thus they achieve the fame, and infamy, of a mass murderer rather than remaining just another of society's failures. The suicide which often follows reflects self-hatred and their life-long feeling of being unworthy of life.
Goldstein disputes the numerous attempts to explain the Newtown killings as reflecting Asperger's disorder or schizophrenia since these Diagnostic Manual (DSM-IV) terms are behaviorally based and lack etiology, a defined causation. He suggests that these explanatory efforts result from the popular fallacy that to name something is to understand it, or from the basic psychological principle which applies to everyone but can be too frightening to accept: that the unconscious is very powerful and one must respect its power.
Dr. Stanley Goldstein is a psychologist who has appeared on national broadcasts including The Larry King Show and CourtTV. Among his books are: Troubled Children/Troubled Parents: The Way Out, Second Edition; Shopping For A Shrink: Finding The Right Psychotherapist For You Or Your Child; Mental Health In A Minute: One-Hundred-And-One, One Minute Lessons To Improve Your Life; and Through Children's Minds: The Marketing and Creation of Children's Products.
Chapters from these books, his other books and his articles, are posted as pdf at his website: http://www.drstanleygoldstein.com.