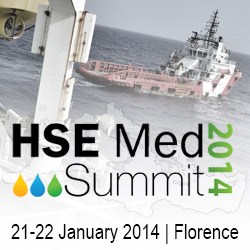 It's an IRN Summit!
(PRWEB UK) 27 November 2013
IRN, the London-based global summits organiser, is hosting the HSE Med 2014 Summit on 21st-22nd January in Florence, bringing together key HSE figures from the Mediterranean oil and gas industry to speak about their HSE policies and strategies, looking for ways to optimise safety while ensuring successful oil and gas operations.
Bilal Salloum, the HSE Lead of Shell Lebanon; Jean-Philippe Berillon, the Senior Vice President for Security & Safety at GDF Suez; Abdullnasser Ganidi, Advisor at the Management Committee HSEQ for the Libyan NOC; Malek Kallel, Head of HSEQ Department at SEREPT; Mostefa Lotfi, Project HSE Coordinator at Anadarko Petroleum; Gamal Jallah, Senior EH&S Advisor for E&P at Suncor Energy in Libya, and Hichem Allouche, Security and Environment Manager at STEG, the Tunisian Electricity and Gas Company, amongst several others, will be speaking and sharing their experience on how to ensure a safe exploration.
Recently, IRN interviewed Jean-Philippe Berillon from GDF Suez Global Gas and LNG, who specifically highlighted the fact that in the Mediterranean "threats are different and intensified by the fact that many countries are involved." Given his vast experience as the Senior Vice President for Security & Safety in an international company, he will be sharing key insights on emergency management and effective interaction of multiple stakeholders during a crisis.
As well as representatives from oil companies, governmental officials from the European Commission and National Ministries will also be at the Summit to provide significant policy updates on the changing regulatory environment. The Commissioner, Maria Damanaki, from the European Commission for Maritime Affairs and Fisheries; the Policy Officer Matthew Heppleston from the European Commission for Employment, Social Affairs and Inclusion, Health, Safety at Work Department; the Minister of Agriculture, Natural Resources and Environment of Cyprus, Hon. Nicos Kouyialis; the Minister of Health for Malta, Hon. Dr Godfrey Farrugia; the President of the Hydrocarbon Regulatory Authority (ARH) of Algeria, M. Tahar Cherif Zerarka, and the Deputy Minister of Economy in Croatia, Hon Alen Leveric, will be also giving keynote speeches.
Research associates of the European Commission and EU countries will be also speaking on their studies at the HSE Med 2014 Summit around forming the new environmental oil and gas regulations, including Dr. Tiago Alves from the Cardiff University, Eleni Kokkinou from the Institute of Crete and Prof. Toula Onoufriou, Advisor to the President of Cyprus and Professor of Infrastructure Reliability, at the country's University of Technology.
More information on the summit can be found on the website: http://www.hsemedsummit.com.