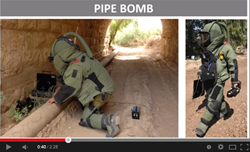 At Vidisco we believe that the images speak for themselves.
(PRWEB) November 27, 2013
Vidisco recently added three new video presentations to its You Tube Channel and to its website which feature many new digital security X-ray images and external pictures. The website now offers an array of video clips about a wide range of topics related to the company's advanced portable digital X-ray systems, the systems' Xbit software and the applications the systems are used for. These same clips and video presentations also appear on the company's You Tube Channel.
As part of Vidisco's ongoing efforts to improve customer satisfaction, the company has created three new videos about EOD, Forensics and Fire investigation applications as well as a video about robots used in digital X-ray inspections in the security field. The application video presentations offer a great deal of new side-by-side digital X-ray and external images. It allows you to see the Xrayed object as it looks in real life and the X-ray image of the same object. Often, seemingly innocent objects turn out to be very dangerous after a quick examination of their X-ray image.
Ofra Kleinberger-Riedrich, Vidisco's Marcom Manager, stated: "At Vidisco we believe that the images speak for themselves. The three new video presentations that were just released were created for the International Milipol Security conference in an effort to get our customers and potential clients better acquainted with our advanced systems and their applications."
Vidisco Ltd., established in 1988, is a leading designer and manufacturer of portable digital radiography systems. Vidisco's portable inspection systems can be found in over 75 countries worldwide. In the security field, Vidisco's digital X-ray systems are used for applications such as bomb detection and disposal, VIP protection, border control, customs, forensics, fire investigation and more.