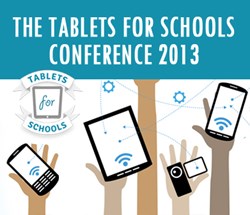 "We should not be afraid of innovation and enterprise within the school system" -Rt Hon David Blunkett MP
London, United Kingdom (PRWEB UK) 28 November 2013
The conference aims to provide educators with practical advice from both industry experts, and schools that have already implemented tablets successfully. The conference will feature a number of keynote speakers (including David Blunkett, Barbie Clarke, industry experts from across communications and technology, and professors from Loughborough, Cambridge and Sussex University), and afternoon workshop sessions run by both industry experts and a total of eight schools. The conference will be held at the QEII Conference Centre in Westminster, London.
At the workshops, attendees will be exposed to practical information on all aspects of tablet implementation and use. Find out more at the main conference page.
About Tablets for Schools
Tablets for Schools is passionate about the transformative effect of tablets in the classroom. We are a not-for-profit (shortly to be charity) education campaign bringing together teachers, industry leaders and academics using robust and independent research on how tablets can positively impact learning and attainment in the classroom. Our research and expertise of how to set up and get the best from tablets are made freely available to teachers, schools and Government.
The Keynote Speakers
Andrew Percy MP (Host): A former teacher, Andrew has made education and young people's issues his top priorities in Parliament.
Rt Hon David Blunkett MP: Former teacher, and former Education and Employment Secretary. Since leaving government, David has undertaken major work on issues such as education, anti-poverty and social mobility.
Dr. Barbie Clarke: Managing Director, Family Kids and Youth research agency. A youth researcher and child therapist.
Andrew Harrison: CEO of Carphone Warehouse & Chair of Tablets for Schools.
Professor David Buckingham: Professor of Media and Communications at University of Loughborough. David is also a member of the Tablets for Schools Pedagogy group.
Professor Colleen McLaughlin: Professor of Education, University of Sussex and Cambridge. A former teacher, Colleen's areas of research and work include bullying, educational reform, and SEN.
The Workshops & Seminars
Here are some of the workshops and seminars that will be running at the conference. They will be run by schools and industry experts from across the UK. For a complete list of workshops, click here.

One school will explain why they switched from netbooks to tablets, and the impact on learning.
Things to consider when introducing tablet devices to a single school and across multiple schools. A school will share their pre-implementation and roll-out approach, including receiving the devices, setting up the network, and insurance.
How the iPad program was chosen to help realise a new vision. One school will describe how the transformation was implemented, the leadership decisions made, and the obstacles.
Promoting Universal Access with Peripheral Tablet Devices. The seminar explores how technologies and resources such as remote control drones, and Lego's Life of George can help learning.
Introducing tablets to assist the journey from Ofsted good to beyond outstanding. A west London school share how to build tablet integration into a plan for developing teaching and learning, sustainable funding models, and how they produced their own content.
From Substitution to Transformation. How one school used iPads to transform teaching and learning.
Going mobile – our vision, strategy and realisation. Cramlington Learning Village explains why they went mobile, their strategy, and the importance of pedagogy.
New pedagogy for effective learning in the digital world. Honywood School recently introduced a new curriculum to ensure students have digital-era skills. They explain the reasons for the shift, and the impact on learning.
Further information
To interview any of the guest speakers or to attend the conference please contact David Mencer on Tel: 020 7096 0771 or mobile: 07775 840557 or david(at)tabletsforschools(dot)org(dot)uk
http://www.tabletsforschools.org.uk
Tablets for Schools' Conference Page.
The Conference Registration Page.