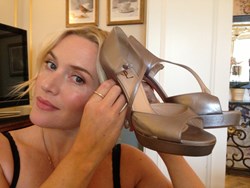 "I wore these amazing YSL shoes for a Vanity Fair photo shoot and I am donating them to Small Steps to shoe my support for the amazing work they do helping children and their families." - Kate Winslet
(PRWEB UK) 10 December 2013
Shoes have been donated from celebrities all around the world and they are up for grabs on eBay. One lucky bidder could be the proud owner of Kate Winslet's YSL heels or Rafa Nadal's winning Wimbledon trainers or even the shoes that Professor Green, The Rolling Stones and Rita Ora wore at Glastonbury 2013. Someone could be going to their christmas party wearing the shoes that Madonna wore on her MDNA tour or Vivienne Westwood's clompers that have walked on haute couture catwalks of the world or Taylor Swift's Keds that she wore on her 2013 Red Tour.
All the funds raised from the auction will go to Small Steps Project, the UK charity which delivers shoes, emergency aid and sustainable solutions to children surviving from scavenging on rubbish dumps. SSP helps these children take small steps off the dumps and into education, breaking the cycle of poverty, in which they are trapped. Find out more about the charity and the auction on our website here:
The online auction is live now until the 15th December
Music Stars
Kylie, Aston Merrygold, Bastille, Brian May, B. Traits, Charlie Watts, Chris Martin, David Gray, Debbie Harry, Depeche Mode, Elsie, Elton John, Eminem, Florence Welch, Gaz Coombes, Jake Bugg, Jason Donovan, Jessie J, Kate Nash, Kenny Rogers, Liam Gallagher, Madonna , Mark Ronson, Mick Jagger, Nicolaus Arson, Nicole Scherzinger, Noel Gallagher, Professor Green, Regina Spektor, Rita Ora, Ronnie Wood, Seasick Steve, Sophie Ellis Bextor, Taylor Swift
Hollywood actors
Ben Stiller, Bill Nighy, Bonnie Wright, Daniel Radcliffe, Elizabeth Hurley, Emma Watson, Ewan McGregor, Gael Garcia Bernal, George Clooney, James Purefoy, Kevin Bacon, Helen Mirren, Isla Fisher, Jessica Simpson, Joan Collins, Kate Winslet, Kevin Spacey, Kiefer Sutherland , Michael Douglas, Natalie Portman, Rachel McAdams, Rachel Weisz, Rupert Grint, Sean Ashcroft, Sienna Miller, Sigourney Weaver, Tom Hiddleston, Valorie Curry
Sports Stars
Andre Agassi, Andy Murray, David Ferrer, Gerard Pique, Laura Robson, Maria Sharapova, Rafa Nadal, Roger Federer, Serena Williams, Sergio Garcia, Steffi Graf, Teddy Sheringham, Tim Henman, Ugo Ehiogu
Fashion Stars
Naomi Campbell, Chloe Green, Helena Christensen, Gok Wan, Kate Moss, Margherita Missoni, Millie Mackintosh, Natalia Vodianova, Nicole Richie, Paul Smith, Twiggy, Vivienne Westwood
TV Personalities
Bill Oddie, Bruce Forsyth, Eric Idle, John Cleese, Michael Palin, Terry Jones, Fearne Cotton, Kelly Osbourne, Matt Lucas, Ricky Gervais
Other Celebrities
Darcey Bussell, Howard Marks, Kye Sones, Matt McGorry, Sir Ranulph Fiennes
Press Contact/further information:
Exclusive quotes from the celebrities are available upon request.
Exclusive images of the celebrities with their donated shoes are available upon request.
Want to find out more about Small Steps Project? Visit our website at here.
SSP can claim gift aid on all donations- that's an extra 25% on top of what you donate. So please continue to donate so SSP can carry on providing care and aid to some of the poorest children in the world.
Thanks to eBay Charity Giving who have sponsored Auction Cause to manage the auction on behalf of Small Steps Project. 100% of the money raised goes to SSP.
The wonderful fashion photographers iHeart Studios have taken beautiful photos of the celebrity shoes free of charge.