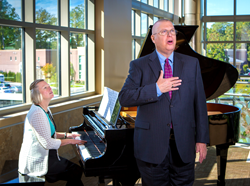 Riverside saved my life (and) I've always believed that giving what you can to help others is the most blessed thing you can do.
Newport News, VA (PRWEB) November 27, 2013
Thanks to the extraordinary talent and energy of a retired professional opera singer, the sounds of live music will fill the lobby and hallways of Riverside Regional Medical Center's new Pavilion wing throughout the holiday season.
Looking for a way to express his gratitude for the care he received during two heart attacks and multiple strokes, Gene Mazurek contacted Volunteer Services Director Carolyn Dough last year asking what he could do to help and "say thank you for all that's been done for me by everyone here at Riverside. Riverside saved my life (and) I've always believed that giving what you can to help others is the most blessed thing you can do."
Mazurek will present a program of music concerts – a program that may be the only one of its kind at any hospital in the country – at various times Dec. 1 through Dec. 23.
Mazurek was 8-years-old when he made his debut on Broadway as the youngest son in The Sound of Music.
He went on to become a member of the New York City Opera Company and a soloist at St. Patrick's Cathedral in New York.
During his career, he sang for multiple Presidents, the Queen of England twice (the second time a command performance at Buckingham Palace), and at Robert Kennedy's funeral. He performed for or with giants of music ranging from Leonard Bernstein to Andy Williams.
In addition to Mazurek, performers will include Ellen McDade, the Harmony show chorus, pianist Kristine Pearson, the One Voice Choir, Hampton Roads Academy Lower School, Salvation Army, Jazz Singers from the First Baptist Church, Denbigh Baptist Christian school, pianist Pricilla Nguyen, Chestnut Memorial's hand bell choir, Tapestry Bells, classical guitarist Drew Poplen, and Christopher Newport University's Guitar Jazz Combo.
Mazurek first brought his talents to Riverside when the medical center held the Pavilion's special opening event for physicians.
Soon after, Mazurek approached the health system about creating a regular program of musical performances in the Pavilion. The hospital administration embraced the idea and the Pavilion music program was born.
Dough said Mazurek "committed himself to taking the program as far as it can go, including setting an ambitious goal of providing daily music performances throughout the holiday season."
The schedule started with the Tapestry Bells concert Ringing in the Season on November 21, and includes a public Tree Lighting and Reception on December 1, and Community Caroling and Reception on December 15, also open to the public.
RIVERSIDE HOLIDAY CONCERT SCHEDULE:
Dec. 1
2 p.m. Concert begins while tree decorations are completed.
3 p.m. Tree lighting
Dec. 2-6
10:30 a.m., 1 p.m. and 3 p.m.
30-45 minute performances
Dec. 7-8
2 p.m.
Dec 9-13
10:30 a.m., 1 p.m. and 3 p.m.
30-45 minute performances
Dec. 14
2 p.m.
Dec. 15
2 to 3:15 p.m.
Multiple performers in various locations for community caroling.
Dec. 16-19
10:30 a.m., 1 p.m. and 3 p.m.
30-45 minute performances
Dec. 20
10:30 a.m.
Dec. 21
2 p.m.
Dec. 22
2 p.m.
Dec. 23
12 p.m.
Closing concert performed by Gene Mazurek.
ABOUT RIVERSIDE HEALTH SYSTEM:
A regional leader in providing healthcare since 1918, Riverside Health System seeks to deliver care and services - as a team- by putting patients and residents at the center of all operations. Riverside delivers a variety of healthcare services and programs in the areas of prevention, acute care, aging-related services, rehabilitation, ambulatory care, diagnostic care, education, and home care.
The Riverside Health System operates five acute care hospitals, a psychiatric hospital, and the largest freestanding physical rehabilitation hospital in the Commonwealth of Virginia. Its extensive Medical Group includes more than 500 providers. Ambulatory centers bring diagnostic services, physical therapy, day surgery and other services to neighborhoods served by Riverside.
The company employs more than 9,000 team members in offices throughout Eastern Virginia.
For more information on Riverside Health System, visit http://www.riversideonline.com.
To schedule an interview, contact Peter Glagola, Director of Public Relations, at (757) 719-2103 or via email Peter (dot) glagola (at) rivhs (dot) com.