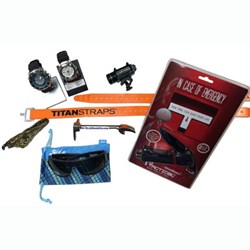 Each year All Hands Fire Equipment selects 10 items for firefighter's friends and family to choose from.
Neptune, NJ (PRWEB) November 27, 2013
Firefighters are historically a difficult group to buy holiday gifts for. With so many gadgets, tools and equipment available for firefighters, it's difficult to know which is the best one to pick for friends and love ones.
In an effort to ease the decision and selection process for that perfect gift, a fire equipment supplier in New Jersey has announced their "Firefighter Top 10 Holiday Gifts for 2013" located here: http://www.allhandsfire.com/Holiday-Gift-Center
All Hands Fire Equipment, located in Neptune NJ, offers thousands of products on their internet website. They also have a storefront that, through the month of December, is open Monday through Saturday to accommodate holiday shoppers.
"Each year All Hands Fire Equipment selects 10 items for firefighters' friends and family to choose from", said Donald Colarusso, the company's president and a 26 year veteran firefighter. "We base our selection on customer feedback and what items are trending as we enter the Holiday Season", he said.
The Top 10 Holiday Gifts are:
1. Freestyle Water Resistant Watches – Freestyle wrist watches offer a sleeve design. Durable and water resistant these watches always make a great gift!
2. T3 Tactical Auto Rescue Tool – This tools features a knife with a partially serrated blade, an LED light, seat belt cutter and more.
3. Flashlights – Choose from a variety of flashlights that meet any need, whether it be for the firehouse, police car or for home.
4. Hobie Polarized Sunglasses – Sunglasses are so incredibly popular, designed for work or play. Choose from a variety of models and designs.
5. Halligan Bottle Opener – This replica Halligan Bar is a bottle opener and is just really cool to have. Great for a display or for home bars. These are great gifts for chiefs to give their hardworking firefighters.
6. America's First Responder Mouse Pad – This mouse pad features artwork that recognizes and is a tribute to "America's First Responders".
7. Dragon 3-D Brass Helmet Front Holder – Every helmet has a "front holder". Now firefighters can add to their firefighting helmet this really cool 3-D carved Dragon!
8. BURN DVD – Since its release, this documentary of the Detroit Fire Department has received rave reviews not only from movie critics, but also firefighters from across the United States.
9. TITAN Strap – The Titan Strap is a universal gift because it can be used by anyone for any job! Use in the firehouse, at home, at work, in the car. Its unique design allows enables quick securing and organization.
10. MAXX Cooler – This is a patented cooler with a unique design for anyone. Whether for working lunches, beach picnics, tailgating an NFL game, it is the absolute perfect gift!
There are many other great gift ideas that are available. All Hands Fire Equipment has created several links to assist customers, such as a Firefighter-Gifts link and Stocking-Stuffers link. There is no doubt that you will find a gift for your emergency services loved one.