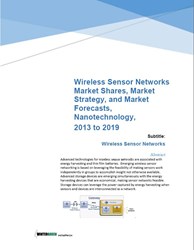 Rockville, MD (PRWEB) December 04, 2013
Wireless Sensor Networks: Market Shares, Strategies, and Forecasts, Worldwide, 2013 to 2019
Advanced technologies for wireless sensor networks are associated with energy harvesting and thin film batteries. Emerging wireless sensor networking is based on leveraging the feasibility of making sensors work independently in groups to accomplish insight not otherwise available. Advanced storage devices are emerging simultaneously with the energy harvesting devices that are economical, making sensor networks feasible. Storage devices can leverage the power captured by energy harvesting when sensors and devices are interconnected as a network.
Energy storage technologies of super-capacitors and thin-film batteries with cost-effective market presence are set to power wireless sensor networking. Energy harvesting devices have attained workable levels of efficiency.
There are significant cost reductions for wireless sensor networking that have been accomplished in the past few years. Many applications are related to smarter computing that depends on sensors capturing change in conditions and making adjustments to the environment based on measured change.
To order this report:
Wireless Sensor Networks: Market Shares, Strategies, and Forecasts, Worldwide, 2013 to 2019
Contact: Shauna
800.298.5699
Customerservice(at)marketresearch(dot)com
WinterGreen Research
WinterGreen Research, founded in 1985, provides strategic market assessments in telecommunications, communications equipment, health care, Software, Internet, Energy Generation, Energy Storage, Renewable energy, and advanced computer technology.
About MarketResearch.com
MarketResearch.com is the leading provider of global market intelligence products and services. With research reports from more than 720 top consulting and advisory firms, MarketResearch.com offers instant online access to the world's most extensive database of expert insights on global industries, companies, products, and trends. Moreover, MarketResearch.com's Research Specialists have in-depth knowledge of the publishers and the various types of reports in their respective industries and are ready to provide research assistance.
Follow us on Facebook http://www.facebook.com/marketresearchdotcom
Follow us on Twitter http://www.twitter.com/marketresearch_
Wireless Sensor Networks: Market Shares, Strategies, and Forecasts, Worldwide, 2013 to 2019 – Table of Contents:
1. WIRELESS SENSOR NETWORKING MARKET DESCRIPTION AND MARKET DYNAMICS
1.1 Wireless Network Sensing Objectives
1.2 Wireless Sensor Network
1.1.1 Wireless Sensor Networks Involve Monitoring, Tracking, Or Controlling
1.1.2 Vehicle Tracking and Security
1.3 Operating Systems for Wireless Sensor Networks
1.4 Zigbee Technology
1.5 TinyOS
1.6 SOS
1.7 Embedded Parallel Operating System (EPOS)
1. TELEMEDICINE AND M-HEALTH MARKET DESCRIPTION AND MARKET DYNAMICS
2. TELE-MEDICINE / M-HEALTH MARKET SHARES AND MARKET FORECASTS:
3. TELEMEDICINE / M-HEALTH PRODUCT DESCRIPTION
4. TELE-MONITOR TECHNOLOGY
5. TELEMEDICINE / M-HEALTH COMPANY PROFILES