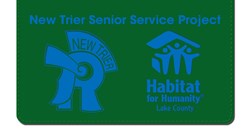 Our high school likes the Gift-checkbook fundraiser because it provides real value to our supporters who buy a book while enabling us to support local merchants who generously support our Senior Service Project and Habitat for Humanity.
Winnetka, IL (PRWEB) November 29, 2013
New Trier High School is kicking off sales of their annual Senior Service Project Gift-checkbook fundraiser that enables the community to take advantage of great savings when shopping and dining locally. Students are currently engaged in fundraising, but will also be involved in organizing and supporting activities and will also assist in all phases of home construction.
Containing over $340 In valuable gift-check offers, the New Trier Gift-checkbook is on sale for only $30. The Gift-checkbook, produced by BoosterShot, features 31 gift-checks that can be used like cash at local restaurants and merchants.
Gift-checkbooks may be purchased by contacting school at (847) 784-2246. Participating merchant offers included in the Gift-checkbook can be viewed online and books may also be purchased with a credit card in the New Trier Gift-checkbook online store.
About BoosterShot
BoosterShot is a premier provider of high value, community based fundraising programs for schools, youth sports and non-profit organizations. Every fundraising campaign we produce is unique and tailored to meet the specific needs of the fundraising organization while extending reciprocal support to community merchants. Everyone wins with BoosterShot. For more information, visit the BoosterShot website at http://www.goboostershot.com.