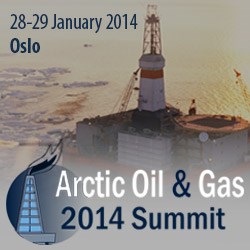 It's an IRN Summit!
(PRWEB UK) 28 November 2013
It's been widely reported in recent news that the next booming oil province will be the Norwegian North with eight field centres to be developed by 2030. One of these centres will be in the Norwegian Barents Sea, which, after the resolution of the long dispute between Russia and Norway early this year, is actively being explored from both sides of the Norwegian-Russian border, attracting even more interest from IOCs. As for the Arctic developments in Alaska, Greenland and Iceland, governments and operators also seem to be entering actively the field.
The Arctic has been an exciting frontier for oil and gas companies for many decades now, but the weather conditions and the lack of safe technology have kept many companies merely observing the developments. However, with the ice melting and much technological advancement, states that are not even geographically related, have hada more active role recently (China, India and Italy acquired an observer status at the last Arctic Council annual gathering), and oil and gas companies are making huge investments if not already exploring the region.
The upcoming Arctic Oil & Gas 2014 Summit, organised by IRN on 28th-29th January in Oslo, will facilitate discussions between experts and key figures of the Arctic on the potential and challenges of the Arctic region in depth, by gathering together a selected group of experts on the topic.
Norwegian North, said to be Norway's biggest oil producing region in the future, will be one of the main topics to be discussed at the Summit with Arctic experts giving an overview of the exploration potential and showcasing the investment opportunities.
Amongst the Summit's senior level speakers shall be Ove T Gudmestad, Professor at the University of Stavanger (Norway); Aleksey Marchenko, Associate Professor and Head of Arctic Technology Department at the University Centre of Svalbard (Norway); Steffen Weber, the Secretary General from EU-ARCTIC Forum; Trond Kristensen, Senior Geophysicist, Lundin Norway AS, Else Berit Eikeland, Member of the Arctic Council - Senior Arctic Official, Norwegian Ministry of Foreign Affairs; Signe Nåmdal, Head of the Industry Department, Norwegian Environment Agency; Mikhail Mosesyan, Leader D&W Engineering, Lukoil Overseas North Shelf AS at Lukoil Norge, and Kamrul Hossain, Senior Researcher at the Northern Institute for Environmental and Minority Law in the Arctic Centre of the University of Lapland.
The Arctic Oil & Gas 2014 Summit will be sponsored by the leading Norwegian law firms Selmer and ARNTZEN de BESCHE. More information about the Summit and the speaker faculty can be found on the website http://www.oilgasarctic.com.