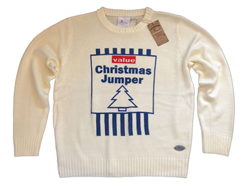 It was a bit scary realising we were almost clean out of stock in November and would face missing out on the Christmas frenzy.
Shrewsbury, Shropshire (PRWEB UK) 28 November 2013
A moment of panic at leading festive sweater company DaftChristmasJumpers.co.uk as predictions that the popularity of Christmas jumpers in 2013 would supersede even last year's interest here in the UK appear to be correct!
Before December had even got underway, stock became worryingly low among the web store's entire product line of ridiculous garments due to significant demand over last year.
Some designs such as the intentionally cheap looking "Novelty Value Jumper" – a design inspired by Tesco's recognizable "value" colour scheme – were drastically under-stocked leading to the most popular sizes of large and extra large selling out completely in November, before the Christmas shopping frenzy has even technically begun.
"The Value jumper was a new design for 2013," says Matthew Lake, founder of DaftChristmasJumpers.co.uk, "and in hindsight was drastically under produced for its initial run this year. We didn't realise just how popular it would be!"
Many of the other jumper designs in their offering also became "worryingly low" in stock due to the early interest among buyers. A few "frantic phone calls," however, enabled a new batch of stock to arrive just in time for the peak selling season.
"It was a bit scary realising we were almost clean out of stock in November and would face missing out on the Christmas frenzy," admits Mr. Lake. However, it wasn't too late. "It was extremely tight with our supplier but fortunately we have plenty of jumpers available once again and should be able to see out the rest of the festive season."
Many publications have predicted a huge increase in the popularity of Christmas-inspired sweaters in 2013 compared to previous years. It's thought the ironic Christmas jumper will be to 2013 what the onesie was to 2012.
Daft Christmas Jumpers, which partners with a novelty clothing supplier with warehouses throughout the country, is a UK business that sells the same Christmas sweaters that have been featured on the likes of ITV's This Morning, Loose Women and Take Me Out. Or for those who remember Colin Firth's iconic moment in Bridget Jones' Diary, the exact "Ronnie Reindeer" jumper he wore is a popular choice to this day.
Those interested in learning more about the fashion faux pas that have been proving such a hit can see them in action at http://www.DaftChristmasJumpers.co.uk. That's if they're not all sold out!