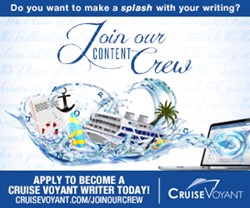 'We were thrilled with the overwhelming interest by cruise writers to contribute to Cruise Voyant,' said Elizabeth Becker, a Cruise Voyant writer.
Fort Lauderdale, Florida (PRWEB) November 27, 2013
Cruise Voyant is excited to announce the addition of several new Content Crew members to their team of cruise experts. After receiving hundreds of applications from qualified cruise writers around the world, Cruise Voyant hired several cruise experts to contribute quality cruise advice as part of their Content Crew. Content Crew contributors will write cruise advice based on their experiences on some to the most popular cruise lines including Royal Caribbean, Carnival, Celebrity, Princess and Norwegian.
"We were thrilled with the overwhelming interest by cruise writers to contribute to Cruise Voyant," said Elizabeth Becker, a Cruise Voyant writer. "We are excited to be working with the current writers and will continue to add cruise bloggers to our growing team."
So far, five writers have been hired to join the Cruise Voyant Content Crew are Irene S. Levine, Joe Cortez, Marcia Frost, John Roberts and Tina Arnoldi. Based all around the United States, the new Content Crew members have many years' experience writing about cruises and travel and have been on over 100 cruises combined.
Irene S. Levine is an award-winning journalist and author who writes about luxury travel and lifestyles for some of the nation's leading magazines, newspapers and online publications, including the Chicago Tribune, NBC Universal and the Huffington Post. Her popular blog, More Time To Travel, offers advice, information and inspiration geared to the over-50 traveler. A member of the Society of American Travel Writers (SATW), she is also a go-to expert for the media on female friendships and girlfriend getaways.
Joe Cortez is a travel expert with adventures across the seven seas and back. Joe is a multiple award-winning journalist whose work has been featured on many CNN, ABC News, multiple blogs, and was even on the hit reality television show, "Beauty and the Geek." He currently serves as editor-in-chief of No Wine Left Behind, a blog about interesting beverages around the world.
Marcia Frost writes about travel, with a focus on luxury, food and wine. Her stories have been published in many on and offline publications and has a popular blog, Wine and Spirits Travel. Marcia has been cruising since she was a child on various ships throughout the world.
John Roberts is a longtime journalist, travel writer and the author of In The Loop Travel, a blog about his cruise and travel experiences. John owns a passion for adventure, sports and exploring new places and has had his work featured in numerous publications. He has been on 17 cruises, including sailings to Alaska, the Mediterranean and on Germany's Rhine River.
Tina Arnoldi is a frequent cruiser having traveled on Carnival, Norwegian, Celebrity, Holland, Princess, Cunard, and Royal Caribbean as a passenger and a crew member. Originally from New Jersey, she now calls beautiful Charleston, SC home. When she's not on a ship, she's providing online marketing services to businesses or teaching jewelry classes.
Content Crew members will be contributing engaging content, photos and videos to the Cruise Voyant blog and providing an opinion on cruises, destinations, ports and more.
For more information about the Cruise Voyant Content Crew members, please visit the Cruise Voyant Blog: http://www.cruisevoyant.com/blog.
About Cruise Voyant
Cruise Voyant is a Florida based cruise agency that is revolutionizing the cruise booking process. Cruise Voyant solves many of today's most difficult booking issues by allowing visitors to view a historic look at how pricing has changed on a particular ship and sail date. Cruise Voyant also offers interactive cruise itinerary maps, and it provides tens of thousands of photos of ships and destinations worldwide. Cruise Voyant helps consumers easily find their dream vacation by empowering them with online advice and insights that will help them easily book and manage their vacation plans.