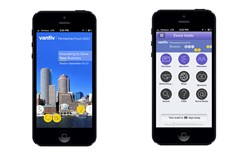 The mobile app made our meeting experience more engaging, interactive and easier to navigate.
New Brunswick, New Jersey (PRWEB) December 12, 2013
Dittman Incentive Marketing today announced that it has won MarCom Awards' 2013 Platinum Award for the mobile event app that it developed for Vantiv Inc., a leading integrated provider of payment processing strategies and advanced technology solutions for businesses and financial institutions.
MarCom Awards, based in Dallas, TX, is administered and judged by the Association of Marketing and Communication Professionals, an international organization consisting of several thousand creative professionals committed to recognizing marketing and communications excellence. For the 2013 awards, more than 6,500 entries were submitted from throughout the United States, Canada and several other countries.
Vantiv used the mobile event app for its 2013 Partnership Forum held in Boston, an annual event that brings together the company's top partners and customers with Vantiv's senior management for three days of networking, education and presentations. More than 75% of the attendees downloaded the app before and during the meeting.
"The mobile app made our meeting experience much more engaging, interactive and easier to navigate," says Lynn Rhoads, SVP, Director, Corporate Events and Community Service at Vantiv. "The app was customized to deliver a unique, branded experience and it reinforced our position among our key constituents as a mobile technology leader."
Here are a few of the capabilities the app provided:

Full agenda, including speaker bios, photos and attendee list (Replacing the bulky binder)
Interactive maps that showed where each session was located
A customizable schedule for individual attendees
Downloads of presentation materials
On-the-fly ratings of speakers and events
In-app surveys
Dittman developed the app using the CrowdCompass platform, customizing the visuals to reflect Vantiv branding. Dittman also built custom modules including maps of the venue, local restaurants and points of interest, as well as managing all aspects of uploading and revising content.
About Dittman Incentive Marketing
For more than 35 years, Dittman Incentive Marketing has been an award-winning, quality leader in providing incentives, recognition, and rewards programs to help companies realize immediate ROI in motivating sales people, employees, channel partners, customers, and consumers. Dittman's signature products and services include: TotalPRO® (Performance Recognition Online) – an incentive, recognition and rewards online software solution (SaaS), and Deluxe Group Incentive Travel. For more information, visit http://www.dittmanincentives.com.