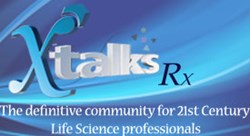 Toronto, Canada (PRWEB) November 27, 2013
The results of a major study were published recently in Science Translational Medicine (STM), which suggest that quantifying a combination of blood proteins can distinguish between benign lung nodules and early-stage lung cancer with high probability.
In this webinar, Daniel Chelsky, Chief Scientific Officer at Caprion Proteomics, will discuss candidate identification, assay development, testing and results, beginning with the derivation of the initial list of candidates, to the identification of the five blood-based proteins, which together constitute the biomarker panel used in the commercial protein expression test, developed in collaboration with Integrated Diagnostics (InDi).
Specific topics covered by the speaker will include the use of Multiple Reaction Monitoring (MRM or SRM) technology as a critical factor in the successful development of a multi-protein classifier panel, as well as the various strategies used to ensure disease specificity and relevance in the final panel.
For more information on this webinar or to register, visit http://xtalks.com/Molecular-Characterization-of-Pulmonary-Nodules.ashx.
Xtalks, powered by Honeycomb Worldwide Inc., is a leading provider of educational webinars to the global Life Sciences community. Every year thousands of industry practitioners (from pharmaceutical & biotech companies, private & academic research institutions, healthcare centers, etc.) turn to Xtalks for access to quality content. Xtalks helps Life Science professionals stay current with industry developments, trends and regulations. Xtalks webinars also provide perspectives on key issues from top industry thought leaders and service providers.
To learn more about Xtalks, visit http://xtalks.com/ContactUs.ashx.
Contact:
Michelle Tran (416) 977-6555 ext 227
clientservices(at)xtalks(dot)com