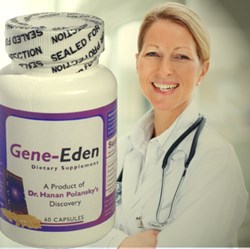 People need an antiviral remedy proven to be safe and effective in a clinical study. We recommend Gene-Eden-VIR, a natural remedy with no reported side effects. – Mike Evans, polyDNA
Rochester, NY (PRWEB) December 01, 2013
A 19-year-old man died a month after getting the flu shot. Doctors refused to discuss the dead teen's case with reporters, due to a state law, in which "doctors are barred by law from talking about individual cases." Government health officials "emphasize the (flu) vaccine is safe, with serious side effects rarely reported." This is according to a report published on November 25, 2013 in the Salt Lake Tribune (2).
The relationship between the flu vaccine and the young man's cause of death remains unclear. However, a study showed that the flu vaccine opens the gate to other respiratory infections.
Researchers wrote in a study published in August 2013 in the journal Science Translational Medicine, that "Vaccine-associated enhanced respiratory disease (VAERD) has been reported in multiple respiratory infections in humans and in animals (3)." In simple terms, there are no free lunches. Many studies show that the increased immunity created by the flu vaccine comes with a price. As it turns out, the vaccine increases the likelihood of developing another respiratory infection.
In addition, health professionals are well aware that the flu vaccine provides limited protection. Specifically, it is only effective in up to 62 percent of those vaccinated. In about a third, the vaccine is a complete waste. These people are exposed to risks with no health benefit. CBS News reported in an article published on January 11, 2013 that "The CDC … released a new study Jan. 11 (2013) in its journal Morbidity and Mortality Weekly Report that found this year's flu vaccine is about 62 percent effective (4)." Of course, 62 percent is better than nothing, but a large number of people are left without protection even after vaccination.
"People need an antiviral remedy proven to be safe and effective in a clinical study. We recommend Gene-Eden-VIR, a natural remedy with no reported side effects." – Mike Evans, polyDNA
A study published on August 12, 2013 in the peer reviewed, medical journal Pharmacology & Pharmacy, in a special edition on Advances in Antiviral Drugs, showed that Gene-Eden-VIR reduced viral symptoms. Study authors wrote that, "Individuals… reported a safe decrease in their symptoms following treatment with Gene-Eden-VIR (5)." The post marketing study authors also wrote that, "We observed a statistically significant decrease in the severity, duration, and frequency of symptoms (5)."
To learn more about Gene-Eden-VIR, visit http://www.gene-eden-kill-virus.com. All orders of Gene-Eden-VIR are completely confidential, and no information is shared or sold to any third party. Privacy is assured.
###
References:
(1) Utah mom says healthy 19-year-old son died from flu shot. Published on November 25, 2013.
http://www.nydailynews.com/life-style/health/utah-mom-healthy-19-year-old-son-died-flu-shot-article-1.1528847
(2) Utah mother faults flu shot in 19-year-old son's death. Published on November 22, 2013.
http://www.sltrib.com/sltrib/news/57169475-78/webb-flu-son-effects.html.csp?page=1
(3) Vaccine-Induced Anti-HA2 Antibodies Promote Virus Fusion and Enhance Influenza Virus Respiratory Disease. Published in August 2013.
http://stm.sciencemag.org/content/5/200/200ra114.full
(4) CDC: Flu vaccine 62% effective; 47 states report widespread illness. Published on January 11, 2013.
http://www.cbsnews.com/news/cdc-flu-vaccine-62-effective-47-states-report-widespread-illness/
(5) Gene-Eden-VIR Is Antiviral: Results of a Post Marketing
Clinical Study. Published on August 12, 2013.
http://gene-eden-kill-virus.com/PP_Gene-Eden-VIR-is-Antiviral.pdf
polyDNA is a biotechnology company that develops dietary supplements using the unique scientific method developed by Dr. Hanan Polansky, which is based on Computer Intuition.
In addition to his unique scientific method, Dr. Polansky published the highly acclaimed scientific discovery, called Microcompetition with Foreign DNA. The discovery explains how foreign DNA fragments, and specifically, DNA of latent viruses, cause most major diseases.
polyDNA developed Gene-Eden-VIR, an antiviral natural remedy that helps the immune system kill latent viruses.