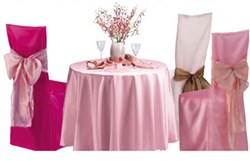 New York, NY (PRWEB) November 27, 2013
Table Cloth Factory recently announced the expansion of their online tablecloth offerings. The company has enhanced their current line to include new colors, sizes, and fabric styles, allowing consumers to size cloths to fit most any table, while choosing colors to coordinate with current decorating trends. Customers can purchase table runners or cloths to coordinate with tableware, to match dining room paint or wallpaper, or to decorate for a special occasion.
In the past, tablecloths were only available in a few colors and styles. Consumers who visit brick and mortar retailers may still struggle to find a cloth for an oddly sized or shaped table, or for a linen tablecloth that coordinates with their napkins, table runner, and other linens. Online retailers such as the Table Cloth Factory, however, allow their customers to purchase table cloths of precisely the right shape and size. This allows consumers with odd sized tables, antique tables, or tables that are round or oval to purchase cloths that fit them precisely instead of trying to "make do" with improperly sized linens.
In addition, Table Cloth Factory offers custom sized tablecloths as necessary, so that consumers without a standard sized table can still make an attractive presentation for their table. Custom table cloths can be ordered in multiple shapes and are designed to provide customers with a perfect fit, no matter the shape or size of their dining room table. These tablecloths are specially made for each consumer, so they can be assured their cloth fits their table properly.
The Table Cloth Factory also provides consumers with numerous fabric and color choices. Whether consumers opt for silk, cotton, or linen tablecloths, they're sure to enjoy the quality and fit that this manufacturer is known for providing. The variety of available fabrics allows consumers to choose table linens to suit most any occasion, from casual gatherings to formal dinner parties. By matching fabric to the occasion, customers gain access to numerous decorating combinations for their tables. This variety has a great deal of appeal for most consumers, as it allows them to express their creativity when hosting a gathering.
Linen tablecloths allow customers to set an attractive table for an affordable price, and are available in numerous colors. This means that customers can purchase a linen tablecloth to match their dinnerware or to decorate for the holidays, as the price point allows them to own more than one. A table cloth can completely change the feel of a room, allowing hosts to match their decor to their event.
Consumers who enjoy setting an attractive table, throwing dinner parties, or dressing up the table for family dinners are sure to be pleased by The Tablecloth Factory's commitment to providing a wide range of table cloth products. The company is tailoring their offerings to meet consumer demand, stating that their customers frequently look for table cloths in custom sizes or in specific colors to match their home decor. The company plans to continue to increase the variety of styles and colors available in an effort to meet consumer demand.