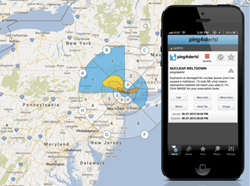 Nashua, NH (PRWEB) November 27, 2013
On November 21, state and local public safety agencies in Massachusetts conducted tests of the 112 Prompt Alert and Notification System sirens located within the 10-mile Emergency Planning Zone (EPZ) of Entergy's Pilgrim Nuclear Power Station. The United States nuclear regulatory commission license reactors to operate for 40 years, and the average age of the 104 active nuclear reactors in the US is now almost 33 years. Though past problems like Chernobyl, Three Mile Island, and Fukushima have been infrequent, nuclear disasters are infamous reminders of worst-case scenarios.
Sirens act as a reminder for citizens within the EPZ to listen to a designated radio stations with the Emergency Alert System. But, how do you relay all necessary information to a population that falls within a 100-mile radius of a nuclear meltdown? Through ping4alerts!
Ping4alerts! is a free iOS and Android app that uses the latest location-based technology to deliver rich multimedia alerts to mobile devices within a highly-localized area. Through a web-based application, agencies can draw a shape on a map as small as a street block or as large as the County to push an emergency notification to the space inside the geo-fence. Ping4 Inc. respects user anonymity and does not require a person to provide any personally identifiable information (phone numbers, email address). Ping4alerts! delivers the targeted alerts over the Internet through GPS, cellular, and available Wi-Fi networks.
Ping4alerts! gives public safety agencies the ability to deliver critical information in one alert by pre-programming alerts containing evacuation instructions, information about speed and direction of the fallout plume, and links to further information for each region.
A nightmare scenario for emergency management agencies is communicating with and protecting the public during a catastrophic failure at a nearby nuclear reactor.
"This instantaneous alerting platform help save lives in the event of a nuclear disaster," said Jim Bender, CEO of Ping4 Inc. "Better communications with the public make your communities more resilient, and help to mitigate damages from all types of crisis."
About Ping4 Inc.
Ping 4 Inc., is a Nashua, New Hampshire software company utilizing the latest in push technology to deliver real—time, location—based, multimedia alerts to any iOS or Android mobile device. Public safety agencies license the platform to keep citizens informed of extreme weather events and other fast—moving situations. Consumers are not required to give up any personally identifiable information. User identity is 100% protected. More information is available at http://www.ping4.com.