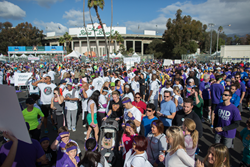 Los Angeles (PRWEB) November 27, 2013
In advance of Thanksgiving, the Epilepsy Foundation of Greater Los Angeles extended its gratitude today to the almost 4,000 participants who attended the Walk to End Epilepsy on November 17th. The Walk, held at the Rose Bowl, raised nearly $500,000, the highest sum in the event's history.
The Walk drew families living with epilepsy and their friends, local entertainers, and medical professionals involved in the care of people with epilepsy. UCLA starting quarterback Brett Hundley and his family also took part in the walk. Hundley's sister, Paris, battles epilepsy and is a highly involved advocate for the cause.
"I want people to know that I am strong and my epilepsy won't discourage me," said Paris Hundley, who, earlier in the week, underwent surgery for another shoulder dislocation. She has dislocated her shoulder 70 times due to seizures. "I am inspired by the thousands of walkers and runners in purple shirts who spent countless hours raising funds to help put an end to this disease."
The 5K-run/1K stroll included live entertainment by country singer Stefani Rose and the Pickleback Shine band, as well as a solo performance from 14-year-old Audrey Kaller. Audrey's own battle with epilepsy inspired her and her team, which included Glee actor Darren Criss, to raise nearly $50,000 in support of the cause.
The event included a walk-through brain, a wishing wall which had hundreds of inspiring messages from walkers by the end of the event, activity booths, the Toyota Sienna with Auto Access Seat, and the MediKidz super heroes who used the event to launch their comic book educating children about epilepsy and the misunderstandings associated with seizures.
In addition to the fundraising efforts of individuals, corporate involvement aided in the event's success. The lead sponsors included Shangri-LA Construction/Webcor Builders and Eisai. Other sponsors included Cyberonics, Wedbush, Lundbeck, Toyota Financial Services, First Foundation Bank and UCB.
Leading up to the Walk, thousands of supporters were highly engaged in a unique social media campaign. Through social media, online followers encouraged the community to share their shoes in support of those walking with epilepsy. As a result, the Foundation experienced a 15 percent increase in the END EPILEPSY Facebook community and 12 percent increase in Twitter. Celebrities also shared photos of their shoes to help spread awareness. Participants included: Mayim Bialik, Darren Criss, Josh Duhamel, Debbie Gibson, Josh Hutcherson, Carrie Ann Inaba, Lisa Rinna, Charlotte Ross, Cody Simpson and Alexa Vega.
The net proceeds from the Walk will directly support the Epilepsy Foundation of Greater Los Angeles in its mission to connect families, stop seizures, promote safety and understanding, and find cures. This includes research, the training of epilepsy specialists, a helpline for families affected, and school and community outreach so everyone knows more about epilepsy and seizure first aid.
"Our Board of Trustees are so grateful to the thousands of walkers, volunteers and corporate sponsors that participated in this year's Walk to End Epilepsy," said Steve Baum, board president of the Epilepsy Foundation of Greater Los Angeles. "Because of their unprecedented support, we can heighten awareness of this often overlooked disease; provide greater resources and care for those living with epilepsy; and engage more people to join the fight."
Epilepsy affects nearly 3 million people in the U.S. and 65 million worldwide. This year, another 200,000 people in our country will be diagnosed with epilepsy and more people will die from seizure-related causes than from breast cancer.
Donations will continue to be accepted for the Walk to End Epilepsy through December 17th at http://www.walktoendepilepsy.org, and we extend an open invitation to join the fight any time by registering your email at http://www.endepilepsy.org.
About the Epilepsy Foundation of Greater Los Angeles
Established in 1957 as a 501(c)3 charitable organization, the Epilepsy Foundation of Greater Los Angeles is leading the fight to END EPILEPSY® and the burden of seizures. Our fundraising and community efforts support care, advocacy and education, today, while investing in research and hope for tomorrow. The Epilepsy Foundation of Greater Los Angeles is part of a nationwide network of affiliates, which are stronger together with the recent merger of the Epilepsy Foundation and Epilepsy Therapy Project. Visit us online at ENDEPILEPSY.org. 'Like' END EPILEPSY on Facebook at http://www.facebook.com/endepilepsy and follow us on Twitter at @EndEpilepsy.
# # #