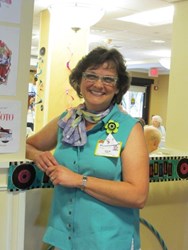 A newly built Personal Care residence would be organized differently today, broken into small 'neighborhoods'.
New Oxford, PA (PRWEB) November 29, 2013
All retirement communities care about their residents' satisfaction. However, satisfaction isn't an easy ratio to measure accurately over time. Consequently, retirement villages often use an outside company to administer formal surveys on a regular basis. Such a company offers expertise and vast amounts of data gathered in dozens if not hundreds of other retirement communities. This data comes in the form of benchmarks, which the survey company shares with us when we get the results of our own survey.
As it happens, we just received the results of our 2013 Resident Satisfaction Survey, administered by Holleran. While the results are good for the village overall, our Personal Care survey exceeded the 90th percentile, significantly above Holleran's National Benchmark for 12 separate Personal Care factors. From housekeeping to assistance with medication, from variety of menu selections to confidence in emergency response and more, again and again our Personal Care won the gold. (Personal Care in Pennsylvania is equivalent to Assisted Living in most other states.)
This is a tribute to the hard work of the Personal Care team, led by long-time administrator Julie Hull. Julie achieves a skillful balance between the lighthearted part of her job (her team devises a community calendar second to none; she is always a good sport when it comes to disguises), and the seriousness imposed by demanding regulations from the State. In addition, Julie works within the constraint of a building which was designed almost 30 years ago. Our relatively small rooms and long corridors were suited to our first residents who were, by and large, stronger and younger than today's typical resident. A newly built Personal Care residence would be organized differently today, broken into small "neighborhoods" better adapted to an increasingly frail population. Cross Keys Village compensates for its aging facility with rigorous maintenance and outstanding programs for all variations of mobility and memory impairments. Receiving a glowing seal of approval from our surveyed residents shows that you can offer a superior program in a not-so-new plant.