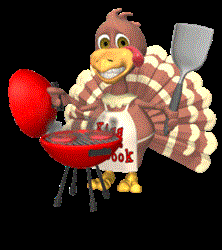 One dollar in electricity costs to cook a turkey that will provide leftovers for a week is a great deal,
Annapolis, MD (PRWEB) November 27, 2013
Across the US, everybody is gearing up for Thanksgiving, whether the bird is cooked in the oven, on the grill, in the smoker or deep-fried. But is there an energy-smart way to cook a turkey? ClearlyEnergy set out to find out.
Oven:
The oven is the most common way to cook the good old bird. At 375 F and 1500 watts per hour, a 20 lbs turkey -- big enough to feed 15 people -– will need nearly 6 hours in the oven…and with pre-heating, that costs…a whole dollar (the number varies regionally, it's about $2 in New York, and 50c in Chicago). "One dollar to cook a bird which a family will provide leftovers for a week is a great deal," quips Véronique Bugnion, co-Founder of ClearlyEnergy.
On average, generating these 10 kW of electricity produces about 13 pounds of CO2, but that varies regionally. In the Midwest or Alaska, where the power mix is more fossil fuel heavy, cooking a turkey in the oven will contribute to emissions more than in, say, upstate New York or Oregon.
Grill:
A sturdy propane grill big enough to handle a whole turkey can be turned into an outdoor oven for a Thanksgiving cookout. Assuming a slightly smaller turkey (to fit), and a 4-hour cooking time, about half a standard 15 lb tank or propane is required, which sells for roughly $20. Total cooking cost of grilling a turkey: $10. "Outdoor grilling a turkey is not such a good deal, and the weather may not help an outdoor Thanksgiving cookout this year either!" comments Norma Jean Autry, co-Founder of ClearlyEnergy.
On the emissions side, burning propane for four hours will add 23 pounds of greenhouse gas into the atmosphere.
Outdoor deep fryer:
Frying has become everyone's favorite turkey cooking method: a super moist bird with a nice crispy outside. The average turkey fryer uses about as much propane per hour as a grill – but it cooks the bird much faster, needing about an hour to heat the oil and then only another hour max to fry the gobbler. That's less than 4 lbs of propane or about $6. The lower propane use accounts for lower greenhouse gas emissions than grilling: about 12 lbs CO2. Just don't burn the house or deck down to save a few bucks over the gas grill option.
Indoor fryer:
Electric deep fryers are pretty expensive and probably don't fit a turkey anyway. With the appliance itself using only 1700 W, a fried turkey comes out super cheap compared to the gas fryer version, since it only takes slightly over an hour including heating up the oil. Total energy costs amount to about 20 cents. Greenhouse gases caused by this small amount of electricity use are also miniscule at about 2.3 lbs CO2. This has got to be the most environmentally friendly turkey cooking method but we hardly recommend it.
Smoker:
"Smoking a turkey is rare option, adding a unique flavor, and it is the most environmentally friendly way to cook a turkey since the fuel (wood & charcoal) is renewable and thus carbon neutral … but it will take a long, long time, up to 8 hours," comments Véronique Bugnion. Cost: some charcoal and wood chips, but maybe not worth the wait?
And the winner is…
In terms of cost efficiency, the cheapest method for most folks is probably still the oven. The cost of propane makes grilling and outdoor frying less competitive, and for most people buying wood chips and charcoal will add to the smoker's overall cost. Then there's the big cost that renders all frying a losing proposition: the oil!
Morale of this turkey story? Don't be afraid to stick to a boring old oven: it's among the greenest options, and for most people also the cheapest. Happy Thanksgiving.