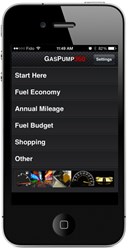 GasPump360 tracks my MPG's and helps keep my annual mileage within my mileage allowance. It is also handy to calculate fuel expenses for personal and business use, road trips, sales calls and when shopping for a new vehicle.
(PRWEB) November 29, 2013
The new GasPump360 app projects annual mileage and fuel expenses enabling consumers to stay within their mileage allowance and fuel budget. This is very helpful when leasing a vehicle or simply trying to keep mileage and gas expenses under control.
In addition, GasPump360 calculates fuel expenses for road trips and when shopping for a new vehicle. The app also tracks fuel economy, records your next vehicle service and has a place to store reminders and notes.
GasPump360 is a great shopping tool. By simply entering the fuel economy information for a vehicle, the app calculates fuel expenses based on the consumer's current driving information stored in GasPump360. This enables consumers to stay within their fuel budget when evaluating new vehicles. Having this information handy is reassuring when buying a new vehicle.
The great thing about GasPump360, it's extremely easy to use and only takes a few minutes a month to track fuel economy and keep mileage and gas expenses under control.
Download now on the App Store.
GasPump360.com is a free public website allowing consumers to compare fuel economy of new vehicles in a class with monthly cost of fuel calculations for low and high mileage. The reports are based on data collected by the EPA (United States Environmental Protection Agency). Actual results will vary with driving conditions and how a vehicle is driven and maintained. What makes the reports at Gaspump360.com unique is having a comparison of all the vehicles in a class with interactive sorting capabilities. The interactive sorting capabilities enable the user to analyze the data in ways best suited to their needs. To sort the interactive reports, simply click on a column header. The Interactive reports enables sorting by manufacture, vehicle, engine displacement, transmission, drive, turbo, fuel type, MPG and the monthly fuel costs.
To view the free reports, go to: GasPump360.com.