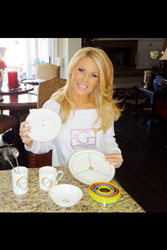 ...This type of diet is one that is sustainable...
Rock Hill, SC (PRWEB) March 31, 2014
The list of celebrities endorsing portion control diets as a healthy natural weight loss program continues to grow. While portion control as a weight loss method is getting popular, Ace Medical Weight Loss Center promotes this method to their customers with a high quality plate, called the SlimPlate System. Gretchen Rossi, former Real Housewife of Beverly Hills, promotes a portion control weight loss method to stay lean.
Portion control is recommended by many nutrition experts as the most effective type of diet. It is sustainable and can be easily maintained over long periods of time. While fad diets and weight loss supplements put many on the "Yo-Yo" diet plan. When they stop their diet, or use of weight loss supplements, they balloon back-up to usually more weight then their original weight. Portion control makes sense, and is the concept behind The SlimPlate System.
The SlimPlate System was created by two weight loss physicians as a medical weight loss solution. This is a solution that does not require the use of any weight loss supplements, change in lifestyle, or any great sacrifices. This is a weight loss method that is safe, and sustainable. The SlimPlate System comes complete with portion control dishes that have colored lines clearly marked. All one has to do is plate real food within the lines to keep a balanced portion.
Consideration was even given to odd shaped food items. Included is a set of ingenious portion control cutting rings, this cuts certain foods into the appropriate portion. For items like sandwiches, waffles or pancakes, all one has to do is press down on the cutting ring to produce the perfect size portion. Pretty simple sounding, and in reality it is just that easy to use these portion control tools.
The SlimPlate System is predicated on eating five meals a day. This will ensure a steady supply of "fuel" for the body, and provide a stable reserve of energy to get through the toughest day. By having several meals throughout the day, there are no feelings of starvation, which is what makes many people give up their diet. It is now a simple matter to make sure each meal is prepared with the correct amount of fruits, grains, vegetables and proteins.
The SlimPlate System was created by two well known weight-loss physicians. Dr. Nwe is a Diplomate of the American Board of Obesity Medicine and is Board-Certified in Internal Medicine. She co-founded the Ace Medical Weight Loss Center with Dr. Grewal. Sandeep Grewal, M.D. is Board-Certified in Internal Medicine and was the recipient of The Charlotte Business Journal's Healthcare Innovator Award for 2013, and also named to the Top Forty Under Forty List in 2013.
For complete information on weight-loss through portion control, visit: The SlimPlate System.
Media Contact:
SlimPlate System
Attn: Brittany Farrar
744 Arden Lane, #100
Rock Hill, SC 29732
803.325.1111