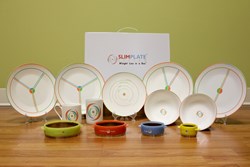 ...easy to use dishes marked with colored lines, and all the user has to do is keep the foods within the lines...
Rock Hill, SC (PRWEB) December 13, 2013
Many people are making choices considering the best weight loss method. The New Year is coming and many are making the important choice of New Years resolution. The portion control method is the latest talk with many people, even celebrities. The portion control diet is a way to control consuming too many calories by overeating. This trend is not only easier than other diets, it is also healthier.
Portion control eating can be a hassle when it is necessary to weigh foods on a scale, and constantly check a calorie chart before preparing a meal. This is what motivated two weight loss physicians to create The SlimPlate System for their overweight patients. They wanted a fool-proof and hassle-free way for their patients to start and maintain a plan to lose weight, and eat healthy foods.
The SlimPlate System is often referred to as "Weight Loss In A Box," because it comes complete with portion control tools such as portion control plates. These easy to use dishes are marked with colored lines, and all a user has to do is keep the foods within the lines, and have a portion controlled meal. It doesn't get much easier than that. The doctors even planned for odd shaped food items by creating "Portion Control Cutting Rings," that when placed on foods like sandwiches, and pressed-down, leave the correct size portion on the plate.
It is now a simple matter to make sure each meal is prepared with the correct amount of Fruits, Grains, Vegetables and Proteins. SlimPlate is an all natural weight loss program that does not rely on any weight loss supplements or fad type diets. The SlimPlate System is based on a five meals per day protocol. People love this system because they don't have to make any changes in lifestyle, or make any great sacrifices.
The SlimPlate System was created by two well known weight-loss Physicians. Dr. Nwe is a Diplomate of the American Board of Obesity Medicine and is Board-Certified in Internal Medicine. She co-founded the Ace Medical Weight Loss Center with Dr. Grewal. Sandeep Grewal, M.D. is Board-Certified in Internal Medicine and was the recipient of The Charlotte Business Journal's Healthcare Innovator Award for 2013, and also named to the Top Forty Under Forty List in 2013.
For complete information on weight-loss through portion-control, visit The SlimPlate System.
Media Contact:
SlimPlate System
Attn: Brittany Farrar
744 Arden Lane, #100
Rock Hill, SC 29732
803.325.1111