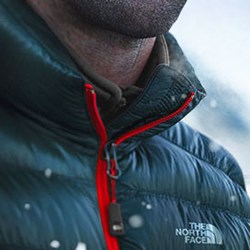 The decision to focus on TNF Summit Series by Webtogs' MD prior to the winter, was a sound one.
(PRWEB UK) 29 November 2013
At Webtogs, an e-commerce business specialising in outdoor clothing, footwear and equipment, sales are up on last year for The North Face, Rab and Marmot products, to name just three of their 50+ brands. Though it's true that more people are likely to stay indoors when the mercury takes a plunge, those amongst us who are forced to venture outside as part of their work or their daily routine need the extra protection of a cosy down jacket or fleece. Life doesn't just stop when Jack Frost strikes, and the canny amongst the outdoor suppliers realise this.
Though the recent chilly weather has had a positive impact upon most businesses in the outdoor retail industry, Webtogs' choice of products has had a big impact on their success. They've gone all in on the warmest Rab down jackets, such as the Neutrino Endurance and Ascent down jackets, and with the weather we've been having they've been flying off the proverbial shelves.
The North Face high specification down jackets have been doing equally well, confirming that the decision to focus on The North Face Summit Series by Webtogs' MD prior to the winter, was a sound one. The North Face micro-baffle down jackets range has been performing particularly well, not only due to the weather, but also because it's bang on trend. Webtogs have backed up the success of their products with their usual recipe of top customer service and some of the fairest return and exchange conditions around (60 day return and free exchange). This has helped ensure that customers not only buy from them when the weather takes a turn, but that they'll return to do so again and again.
Through sound buying decisions, strong customer service and a little luck in terms of the weather, Webtogs prove that British businesses don't only make hay when the sun shines.
Phil Bovey
To find out more about Webtogs and the services they provide visit http://www.webtogs.co.uk.
For further information on the story and to access supporting imagery, please contact:
Phil Bovey, PR Manager.
Tel: 01963 337000 Email: phil(at)webtogs(dot)com
About Webtogs.
South West Mountain Sports, including the Webtogs brand, are on-line retailers of outdoor clothing and equipment. Our team are dedicated to bring you the best outdoor products, backed by many years of hands-on experience and multi-award-winning customer service.