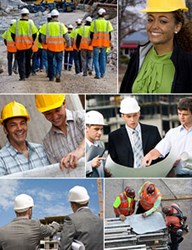 We are excited to be working with Prove It!… We are now able to offer two amazing tools on our site to help companies make better hiring decisions and give candidates more confidence in their abilities.
Austin, TX (PRWEB) November 27, 2013
ConstructionConnection.com is adding a new tool to their already impressive arsenal. They have established a partnership with Prove It! by Kenexa, an IBM Company with a mission to help build a "Smarter Workforce." As an authorized distributor of the Prove It! testing products, members of the networking and hiring construction industry website will be able to showcase their talents in a new concrete way. By adding Prove It! products to their site, Construction Connection now offers even more resources designed to help individuals and construction companies across the US.
The Prove It! system that Construction Connection will be distributing includes a series of tests designed to assess individuals' proficiency with specific software. For example, a member could take a Microsoft Office test to prove their abilities to use MS Word or Excel. Once they complete the tests, they receive a detailed report that shows which questions they answered correctly and incorrectly, and assess their performance compared to other users who have taken the same test. There are different levels of testing, so an individual who is an expert at using Excel will not be compared to someone who only has a basic understanding. This is reflected in their report, which they can then share with potential employers to concretely demonstrate their skill level.
"We are excited to be working with Prove It! and Kenexa to offer their products to our site members," says Co-Founder of Construction Connection Kent Leighton. "We are now able to distribute two amazing tools on our site to help companies make better hiring decisions and give candidates more confidence in their abilities."
The other tool Leighton refers to is the Everything DiSC Workplace Profile, which Construction Connection became authorized to distribute earlier in the year. The DiSC Profile is an assessment tool that offers unique insights into individuals' behavioral and communication styles. It also includes a detailed report, which construction company owners can use to improve team communication and build a more cohesive workforce. Each DiSC Profile also includes a 30 minute personal coaching session to help individuals understand how to better communicate with their coworkers.
Leighton and his Co-Founder Suzanne Breistol also use both the DiSC assessment tool and now the Prove It! testing tools in their business consulting services, Consulting Simplified™.
"With the addition of the Prove It! tools, Suzanne [Breistol] and I can really help companies and individuals. When we work with businesses through Consulting Simplified™, we use the DiSC assessments to build stronger teams that communicate effectively and work well together to address each others' needs," Leighton explains. He adds, "The Prove It! tests will also be a key tool for businesses because it gives employers real insight into where an applicant's strengths lie and where there are opportunities for education and growth."
The two resources are not only designed to help businesses make smarter hiring decisions, they are also intended to help individuals searching for construction jobs. Construction Connection's patent-pending job-matching system works by matching individuals' training, skills and experience with available jobs posted by company members. The Prove It! tools will take it one step further by allowing them to showcase their specific software skill levels, as well. It is intended to help boost individuals' confidence in their own talents while also helping them highlight their knowledge to potential employers.
Construction Connection already boasts a wealth of resources on their hiring and community website, and the addition of the Prove It! tools will increase transparency between candidates and employers. The site is well on its way to becoming the preeminent, one-stop-shop for all construction industry professionals to find or post construction jobs, to network with others in the industry, and to find educational and instructive resources. To find out more about Construction Connection or to join, visit ConstructionConnection.com today.
About Construction Connection
ConstructionConnection.com was created out of a need for a more effective and streamlined way for construction industry professionals to get matched with the right industry jobs and with the right industry opportunities. The founders of Construction Connection, both industry professionals themselves, listened to both company and individuals' dissatisfaction with the traditional job boards, the paid resume blasts, the overpriced resume services and overall lack of sympathy toward the individual candidate. They listened to the dissatisfaction from companies who post jobs only to get many irrelevant results or having to purchase high priced ads to showcase their company. Construction Connection is a patent-pending, one-of-a-kind profile creating / match-making system. The system delivers effective results. Construction Connection saves you time, money and aggravation by matching people to people, people to companies, companies to people, and company to company.