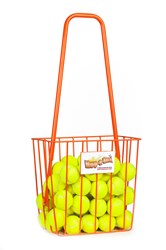 Hop-a-Razzi makes ball retrieval fast, easy and fun for everyone so there's more active play time.
(PRWEB) November 27, 2013
Delight tennis players with the gift of a Hop-a-Razzi, the only ball basket with built-in wheels, adjustable-height handles and 12 vibrant colors. The patented design makes ball retrieval fast, easy and fun for everyone so there's more active play time.
Visit our Amazon shop to check out all three models, zoom in to view product features and see how colorful Hop-a-Razzi is: http://bit.ly/HopAmazon. Get $5 off each order with coupon code 5AMZNHOP through Dec. 20.
For the Style Maven
Superior construction with special design details – like vibrant colors, tubular comfort-grip and 360-degree welds on powder-coated steel – combine for superior quality. The design and finishing make Hop-a-Razzi the slickest and most durable hopper on the market. And it comes in everyone's favorite color.
For the Junior Player
Hit more balls for the player's time and money with a Hop-a-Razzi. Ball pickup is faster than ever because the built-in wheels glide across all court surfaces, and the Junior and Pro models convert to standing position for serve practice and feeding. Get better faster.
For the Family Who Plays Together
Why struggle with cans of balls when you can easily store and transport dozens of balls in a Hop-a-Razzi? The Classic model is perfect for basic ball pickup, while the Junior and Pro convert to standing position so an adult can easily feed balls to kids, who tell us they love picking up balls with the Hop-a-Razzi. Get one of each model so everyone can participate in pickup and hitting.
For the "Love Match"
Tennis is a perfect way to spend time with a Valentine and Hop-a-Razzi makes the perfect gift for him or her as part of a romantic outing on court. After all, "love" isn't just a score. The couple who plays together stays together. All models come in hot pink and romantic red.
For the Senior Player
Save energy for rallies -- don't waste it bending over to pick up balls and struggling to lift or drag a full hopper across the court. Hop-a-Razzi makes ball pickup a cinch as the tubular comfort grip makes it easy to push or pull the hopper across all court surfaces. The Hop-a-Razzi glides wherever it goes, and the handle has four height settings for ultimate comfort.
For the Fitness Buff
Keep the heart rate up and keep the momentum of play going with Hop-a-Razzi. Retrieving balls no longer eats up valuable active time because Hop-a-Razzi's built-in wheels help players zoom around the court in record time. And the adjustable handle height with tubular grip means this hopper is ergonomic. There's no straining the arm, elbow, shoulder or back to carry a hopper full of balls. Now it's fast and easy to collect balls and get back to play.
For the Teaching Pro and Coach
Get more out of players with a hopper that's built for function and durability. They will hit more balls during each session and practice will be more valuable with this high performing hopper. Instead of dragging a traditional hopper across the court – which harms court surface and weakens the ball basket – players will glide the Hop-a-Razzi by pushing or pulling it. Hop-a-Razzi provides greater value for time and money, making it easy to deliver a superior experience to players. Choose a single color to match the facility or team, or mix-and-match two colors with the Team Spirit line.
Hop-a-Razzi product features:

Built-in wheels glide over all court surfaces
Adjustable-height handles with four settings to suit little kids and tall adults
Tubular comfort-grip makes it easy to grab, push and pull for little hands and big hands
Powder-coated steel in 12 vibrant colors bring style and spirit to your game
Snap-in lid keeps balls in place for easy storage and portability. Junior and Pro models
Handles convert to lock-in legs for sturdy standing position to feed balls or practice serves. Junior and Pro models
Hop-a-Razzi beats other hoppers on:
Performance. Innovative design and vibrant colors elevate the tennis experience.
Value. All ages get more play for their time and money because pickup is fast.
Quality. Superior construction prolongs life of hopper. Built-in wheels protect court.
Versatility. Switch from rolling hopper to sturdy standing basket in seconds.
Portability. Snap-shut lid keeps balls in place. Built-in wheels glide across all surfaces.
Comfort. Tubular handles make it easy to pull or push on wheels.
Shop now -- just call 1-800-931-1561 or shop on Amazon or Hoparazzi.com.
PHOTOS FOR MEDIA USE: https://hoparazzi.com/press-media/
ABOUT HOP-A-RAZZI
Hop-a-Razzi is a start-up tennis manufacturer of innovative tennis ball baskets with built-in wheels that makes ball pickup fast, easy and fun for everyone. The patented design provides a superior experience on court so players of all ages, heights, strengths, and abilities can hit more balls for their time and money. The powder-coated steel baskets come in 12 vibrant colors that make 144 color combinations – perfect for teams. The built-in wheels roll smoothly on all surfaces for easy trekking across town or the court without damaging the basket or the surface. Hop-a-Razzi was invented by Christi Turdo, a longtime certified teaching professional and a club owner. The company is based in Northbrook, Ill.