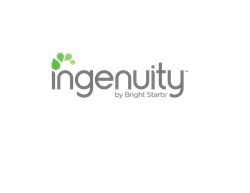 Parents need to make sure that baby has a secure environment, free from hazards that can cause serious injury to a little one.
(PRWEB) November 27, 2013
Designing a nursery for a baby can be a fun and rewarding experience for new parents. Deciding how to decorate can also feel overwhelming at times, especially for parents planning for a baby and decorating for the upcoming holidays. Ingenuity™, one of Kids II's brands, recommends that parents take it step by step, always prioritizing safety.
"Parents need to make sure that baby has a secure environment, free from hazards that can cause serious injury to a little one," said Kyra Mitchell Lewis, Senior Marketing Communications Manager at Kids II.
Some helpful nursery safety tips from Ingenuity include:
Keep drapery and blind cords away from a baby's crib changing table and playard.
Never leave a child unattended on a changing table.
Keep baby powder, diaper creams, and other supplies out of baby's reach.
Put plastic outlet protectors in unused electrical outlets.
Check the crib for small parts and pieces that baby could choke on.
Ensure all areas for baby to play or rest in are safe.
Parents who choose the Ingenuity™ Washable Playard with Dream Centre™ will have a safe sleep area for a child. The Playard allows a baby to lie on a firm, yet comfortable, sleep surface and has no small parts or pieces. It also makes for a safe play area.
All fabric surfaces of the Ingenuity Washable Playard are also washable. Velcro tabs at the outside corners and inside zippers make it easy for parents to completely remove all the fabric surfaces and toss them into the washing machine for cleaning.
Side storage pockets, allow parents to have everything they need at their fingertips, while keeping those things out of a baby's reach.
The Washable Playard with Dream Centre™ also features a pivoting changing table, a bassinet, and an overhead toy bar with two soft toys.
About Ingenuity™
Ingenuity designs and develops the industry's most intuitively-designed gear for babies, with a focus on smart, easy-to-use products that help parents adapt seamlessly to life with a baby. Every design is based on modern styling and technologically savvy solutions that were designed with parenthood in mind. Ingenuity is part of the Kids II family of brands. Visit http://www.ingenuitybaby.com.
About Kids II®, Inc.
Kids II has been inventing and reinventing baby and infant toys and gear for more than 40 years and has quickly become one of the world's fastest growing baby product companies. Headquartered in Atlanta, Kids II spans globally with operations in six continents serving customers in more than 70 countries. Driven by innovation, design and a comprehensive brand portfolio, Kids II is the next generation leader of infant and toddler products.
Kids II designs, markets and distributes more than 400 unique baby and infant products, selling more than 22.8 million items per year. On average, it launches 125 new products a year. Under its flagship brands, Kids II has produced more than 100 award-winning products.
The brand portfolio strength runs deep under the Kids II umbrella, which includes its signature brands Bright Starts™, Ingenuity™ and Comfort & Harmony™, as well as licenses to design and manufacture products for Disney Baby™, Baby Einstein™, Oball™ and Taggies™.
Kids II's international affiliate operations are located in Australia, Canada, Europe, China, Hong Kong, Japan, Mexico and South Africa. Visit http://www.kidsii.com.