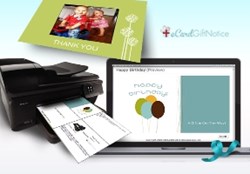 Most of the biggest retailers are missing gift messaging on a large percentage of their items, and a gift message is critically important to the overall gifting experience.
Los Angeles, CA (PRWEB) December 03, 2013
Sometimes shoppers find that "perfect gift" for their loved one, only to get some surprises in check-out: No gift message area, possible backorders or long shipping lead times making on time arrival questionable. There is now a solution to many online gift buying woes: eCardGiftNotice.com's new service provides solutions to online and general gift buying issues:
1. The biggest, down to the smallest, retailers are usually missing a message area on some or all of their gift purchases
2. They offer no gifting solution to backordered gifts that will arrive after a gifting event
3. No last-minute solutions are offered for gifts that may arrive late, or that indicate long shipping lead times except an eGift Card, requiring a recipient go find their own gift
4. When there are messaging options available, it is usually only a few words on a packing slip or shipping label
Now, even in the situations above, one can still create a very personal gift giving experience with the webcam gift notice and the other eCardGiftNotice personalized gifting options. The growth of online gift shopping, and loved ones no longer living near one another are new trends that combine to create today's impersonal "gifting". In the past, givers and recipients could see the smile and joy of the other, creating the emotional connection. Now emailed webcam recorded gift messages can reestablish that connection.
Most of the biggest brands and shopping sites are not yet offering messages with all gifts; even short messages on packing slips or shipping labels aren't always offered. If they do have a small message area, the eCardGiftNotice "short link" lets a gift buyer insert a link to the webcam, or other gift notice created into that provided space. "One reason that some items have gift messaging and others don't is because some gifts are shipped directly from the gift manufacturers. The actual order is often taken on the big site, but the fulfilling company has no messaging capability", says founder, David MacMahan. Lead times may often say 7-10 business days, which with weekends included can mean two weeks. Overseas, military and bulky item shipments may take several weeks to arrive. Paying express shipping can be an expensive option to overcome shipping lead times, but doesn't help solve the gift message issue.
Some retailers do provide more options than others, including printed greeting cards with your personal message that can go in the gift shipment for around $4, which is also a nice option. MacMahan pointed out that the gift notice service should not be confused with a normal eCard. The inclusion of the gift image and gift description and all of the themes and messaging of the notices revolve around richly presenting a gift chosen in a robust and personal way. Some retailers do offer the eCardGiftNotice service in their brands, but not enough for eCardGiftNotice founder MacMahan to be satisfied consumers had access to it.
So this holiday the service is being made available to all consumers directly for the first time. The service has no charge, but encourages the user to shop at their favorite brands, through their Go Shopping area. Many of the biggest and most popular gifting sites are there and buying gifts through here provides a commission to eCardGiftNotice. But MacMahan points out that purchasing through their retailer list is not required at all, and encourages anyone to use it shopping from anywhere. They are even OK for you to take photos of your hand-made gifts, food or basket items and use their service as you like.
"It is truly the message that counts for so many, and we want to empower shoppers to connect their gift giving emotionally, by including personalized gift notices for all purchases this holiday", stated MacMahan. The company was founded in 2000 to bridge the lack of personalization in online gift messages and to provide a way to solve last-minute gift delivery fears around orders being shipped and arriving after an event. Until now, it was only offered by a few online retailers in their brands. MacMahan points out that: "Today, there is 70% high speed presence in homes and 94% availability. There is no reason a gift should arrive with no associated personal message, even if purchased last-minute. A gift buyer doesn't have to leave the recipient wondering why they were forgotten." (Pew Research Study)