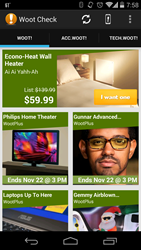 Great prices on stuff I didn't know I needed, but always find something I want.
Dallas, Texas (PRWEB) November 28, 2013
Do your holiday shopping on your phone anytime, anywhere and get the best deal available on the web! Every day at Woot there is a new "Today's Woot" – the best deal that Woot has to offer, at the lowest price you'll find anywhere on the web. Each deal is available until the item sells out or midnight Central Time, whichever comes first. The highly popular app, Woot Check, notifies users on their Android phone or tablet when Woot's deals are updated, so a great new deal is never missed. The latest upgrade includes a sleek, new design and the introduction of Woot!Plus items into the app. Users can see product images, specs, and share good deals with friends and family from within the app. The best part about this app is that it has no ads, and it is free.
Woot sites include: Today's Woot!, tech!, home!, tools & garden!, sport!, accessories & watches!, kids!, shirt!, wine!, sellout!, moofi!, and community deals! Each of Woot's sites offer merchandise significantly below list price for one day only. The problem is remembering to check each of the websites every day, so that no deals are missed. Woot Check solves this problem by providing instant notifications when new deals become available. Furthermore, the notifications can be customized to only show whichever Woot sites interest the user.
For consumers who are interested in doing their holiday shopping online, Woot Check makes shopping for family and friends a breeze; Woot Check will deliver exciting gift ideas for everyone on your holiday shopping list right to your phone or tablet. No more checking a dozen sites trying to find a good deal; use Woot Check to find a variety of deals all in one place every day.
"Woot Check, …[an] app from GT Media, the developers of SeekDroid, takes things to an impressive new level" according to Nate Kimmey of AndroidPolice.com. The simple, uncluttered user interface makes browsing the daily deals and Woot!Plus deals a breeze. Each specific Woot site is color coded, and items are accompanied by high quality pictures and in-depth specifications for interested users.
Woot Check has received 4.5 stars in the Google Play Store, which is no wonder considering the great deals that it gives you access to! Combining so many great deals into a simple user interface makes Woot Check the perfect no fuss shopping app. Don't miss any more great deals this holiday season! For more information, or to download Woot Check for free, visit the Google Play Store.