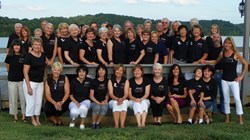 Award Winning Eastern Tennessee Neighborhoods
Knoxville, TN (PRWEB) November 28, 2013
Kick off your Sunday shoes and let loose in one of Eastern Tennessee's best lake towns. Footloose in Tellico Line Dance Club is one of numerous Tellico Lake social clubs that hold weekly gatherings at the Tellico Yacht Club. The next big dance event will take place Wednesday December 4, 2013 celebrating the holiday season.
Tellico Village is a quaint village situated within the foothills of the Great Smoky Mountains along one of the best lakes in Eastern Tennessee. The town's top attractions are Fall Creek Falls State Park and Great Smoky Mountain National Park; located just a short drive away. Surrounded by stunning views, premium shopping, and award winning medical centers, it is no wonder Tellico Village is a popular retirement destination for Baby Boomers.
Tellico Village homes for sale embody the true natural beauty of the 16,000 acre Tellico Lake shoreline with luxury cottage homes overlooking the crystal waters. The lake communities offer outstanding recreational facilities and entertaining Tellico Lake social clubs. The area boasts over 60 active social clubs, including the Ladies Duplicate Bridge Club, numerous men's and women's golf clubs, the Wallyball Club, and Footloose in Tellico Line Dance Club.
Tellico Lake social clubs know how to have fun around the holidays. This year the Footloose in Tellico Line Dance Club is celebrating the holiday season with a festive Christmas Dinner and Dance party. Members are invited to join in on a delicious meal followed by line dance favorites such as 'Hit the Road Jack' and 'Wagon Wheel Rock.'
Get ahead of the rest at the Footloose in Tellico Line Dance Club's premium dance classes. Intro classes begin January 21 at 1PM. Experienced dancers can also attend Advanced and Intermediate courses every Monday and Wednesday from 1PM and 2:15PM respectively.
Tellico Lake is not only one of the best lakes in Eastern Tennessee, it offers a superb lifestyle. The moderate four-season climate allows residents of Tellico Village to indulge in year-round golfing, fishing, or boating. Boating Life Magazine recently named Tellico Lake as one of the Best Places in the U.S. for Boating.
Tellico Village homes for sale are surrounded by the tranquil scenery of Lake Tellico and the Great Smoky Mountains. Choose from eight friendly neighborhoods: Chatuga, Chota, Coyatee, Kahite, Mialaquo, Tanasi, Tommotley and Toqua. The relatively low cost of living in Eastern Tennessee is reflected through the affordable housing prices of Tellico Village homes for sale, and the village's unique 'pay as you play' amenities. Treat yourself to fine dining at the Tellico Yacht Club after a relaxing swim at the 26,000 square foot Wellness Center's indoor lap pool, or spend the day on Tellico Lake; launching from your backyard or the Tellico Village full service marina.
Get your dancing shoes out and join the friendly community of Tellico Village, and wiggle your way into fun Eastern Tennessee.
About Real Estate Scorecard:
Real Estate Scorecard writes unbiased real estate reviews providing in-depth information about popular gated communities in Florida, Georgia, North Carolina, South Carolina and Tennessee, all in an effort to help people discover where to retire in the Southeast.
Website: http://realestatescorecard.com