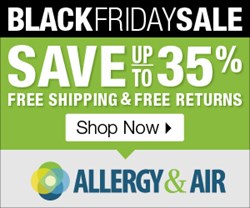 Austin, TX (PRWEB) November 29, 2013
Air purifiers, portable heaters, and dehumidifiers may not seem like the most exciting holiday gifts but they are consistently some of the most appreciated. They are truly gifts which keep on giving all year long. People spend a larger percentage of their time indoors with each passing year and indoor air quality has become a major concern.
This holiday season, AllergyandAir.com is offering some of the best savings of year during their Black Friday Weekend sale. Smart holiday shoppers can save up to 35% on every product in stock. They can also take advantage of additional savings with free shipping, free returns, and the AllergyandAir.com price match guarantee. Some of the most popular gifts during the Black Friday Sale include:

This particular model is perfect for most homes and apartments with its ability to cover an area of up to 4,500 square feet even though it weighs only 40 pounds. EdgeStar is highly regarded for its ability to design products that boast excellent reliability and versatility.
Add a little winter comfort to any home with the Classic Flame Cannes electric fireplace entertainment center. Not only does this unit effectively heat up to 400 square feet but is specifically designed to protect nearby electronics from heat damage. This unique electric fireplace-entertainment center combo is ideal for any home.
•IQAir HealthPro Plus Air Purifier
One of the most powerful air purifiers on the market will be on sale during the Black Friday sale all weekend. The IQAir HealthPro Plus air purifier normally carries a hefty price-tag of $1000 or more. During this weekend's sale, shoppers will pay only $899.00. This sophisticated air purifier is official partners with the American Lung Association, Extreme Makeover Home Edition and was a recent recipient of the Consumers Digest "Best Buy" Award.
Kari Hall at Allergy & Air states, "This weekend will be one of the biggest sales we have ever had. We wanted to thank our loyal customers by offering unprecedented savings. It is also the perfect time for new customers to give us try with free shipping, free returns, and price match guarantee. All of which are available during our Black Friday Weekend Sale."