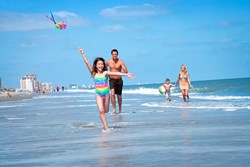 Cyber Monday is when we typically offer the best rates for our guests. This year we are going above and beyond by releasing rates that are up to 50 percent off.
(PRWEB) November 27, 2013
Local Myrtle Beach resorts will be offering their best rates of 2014 through VacationMyrtleBeach.com this Cyber Monday.
A yearly tradition, participating in Cyber Monday has become even bigger this year, said Vacation Myrtle Beach spokesman Matt Klugman.
"Cyber Monday is when we typically offer the best rates for our guests. This year we are going above and beyond by releasing rates that are up to 50 percent off," he said.
These prices are good on a variety of resorts and room types, from cozy efficiencies to large condos, with each resort offering oceanfront options.
"We know this is the time of year that families are thinking about their spring and early summer vacations," Klugman said. "We want to help them out by giving them the best price possible. This will get them on the path to creating new family memories in Myrtle Beach at an affordable price."
Vacation Myrtle Beach will be offering the best rates this Cyber Monday exclusively for 14 oceanfront Myrtle Beach resorts including Captain's Quarters Resort, Landmark Resort, Crown Reef Resort, Beach Cove Resort, Sea Watch Resort and Ocean Creek Resort.
Vacation Myrtle Beach is actively encouraging Facebook fans to sign up for these exclusive deals via their website and will also be showcasing this offer an entire day early for both Facebook fans and previous guest history, as a way to show their appreciation.
"Since deals will only be available until midnight on Monday evening, we wanted to give these groups a head start and an earlier chance to book their vacation," Klugman said.
Guests who book their vacation through the Cyber Monday deals between 8 and 11 a.m. on Monday morning will be entered into a random drawing for a chance win various prizes including having an entire two days of their reservation paid for, a $50 resort credit and tickets to local attractions.
Klugman said that it's in the best interest of the guests to take advantage of this limited time sale.
"After Monday these specials won't be available again," he said. "Another reason to book now is that you will have a better choice of available room types and you will have more time to plan your vacation."
Specials will be available for all 14 Vacation Myrtle Beach resorts for travel dates that take place in winter of this year and spring and early summer of 2014. To sign up for these deals, visit their website.
About VacationMyrtleBeach.com Resorts
VacationMyrtleBeach.com is the official vacation site of Myrtle Beach, SC offering the guaranteed lowest rate on nearly 4,000 accommodations units ranging from studios and efficiencies to one bedroom suites and two, three, four and five bedroom condominiums. VacationMyrtleBeach.com resorts also offer a wide range of amenities including pools, water parks, lazy rivers, whirlpools, on site restaurants, oceanfront pool bars, bowling center, tennis center, racquetball courts, fitness rooms, miniature golf course and even South Carolina's first swim up pool bar. VacationMyrtleBeach.com is the online home to reserve your place for fun in the sun.