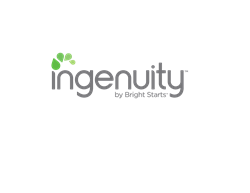 "Parents are sure to appreciate the Washable Playard by Ingenuity.
(PRWEB) November 28, 2013
Congratulations to country singer Zac Brown and his wife, Shelly, from Kids II ®. The couple is expecting their fifth child, according to People magazine (11.1.13). The couple's other children are girls, Justice, 6, and Georgia, 4, Lucy, 3, and Joni, 2. The new baby is expected to arrive in early 2014.
Brown is no stranger to big families. He is the 11th of 12 kids, said People magazine.
Time management is an important part of a well-balanced life for big families. Helping busy parents save time, all the Washable Playard's fabrics zip off easily and can be tossed in the washing machine.
"Parents are sure to appreciate the Washable Playard by Ingenuity™. Cutting down on the time it takes to clean means more time to spend with the family," said Miles Bohannan, VP of Marketing Communications at Kids II.
Wheels make the Playard easy to move from room to room so baby can play in, rest in or sleep in any room of the house. The Washable Playard is also easy to fold for storage and travel. For added convenience, the Playard has an elevated changing table that easily pivots out of the way. An extra-large storage tray helps keep diapers, wipes, and more organized and on hand.
"Saving time leaves busy parents with more free time," said Bohannan.
ABOUT KIDS II, INC.
Kids II has been inventing and reinventing baby and infant toys and gear for more than 40 years and has quickly become one of the world's fastest growing baby product companies. Headquartered in Atlanta, Kids II spans globally with operations in six continents serving customers in more than 70 countries. Driven by innovation, design and a comprehensive brand portfolio, Kids II is the next generation leader of infant and toddler products.
Kids II designs, markets and distributes more than 400 unique baby and infant products, selling more than 22.8 million items per year. On average, it launches 125 new products a year. Under its flagship brands, Kids II has produced more than 100 award-winning products.
The brand portfolio strength runs deep under the Kids II umbrella, which includes its signature brands Bright Starts™, Ingenuity™ and Comfort & Harmony™, as well as licenses to design and manufacture products for Disney Baby™, Baby Einstein™, Rhino Toys™ and Taggies™.
Kids II's international affiliate operations are located in Australia, Canada, Europe, China, Hong Kong, Japan, Mexico and South Africa. Visit http://www.kidsii.com.