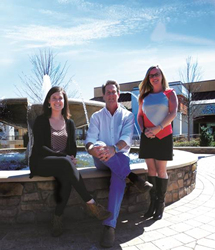 Money Pages offers businesses and people many opportunities, whether it's saving money or getting their names out to the public. - Craig Metcalf, Money Pages Franchisee
Cary, N.C. (PRWEB) December 02, 2013
Money Pages, a leader in direct mail advertising in the Southeast, announced that Craig Metcalf will launch Money Pages of Cary, N.C.
Metcalf purchased the rights to franchise the Money Pages magazine in the Wake County area. Money Pages of Cary is the first of several franchise magazine publications that Money Pages expects to open in North Carolina.
"We know that franchising will be the vehicle to even greater success as Money Pages moves forward," said Alan Worley, president and CEO of Money Pages. "Our franchisees directly represent this company, and having known Craig my whole life, I know he will do a great job."
Metcalf is also the owner of a custom residential/commercial painting company that services the greater Wake County, N.C. area and was established in 1986. His background in business and management will help him with running a Money Pages franchise.
"Money Pages offers businesses and people many opportunities, whether it's saving money or getting their names out to the public," said Metcalf. "I'm excited to be a part of it and to extend those opportunities to the citizens of Cary."
Money Pages' flagship product is a direct mail publication designed to save consumers money on everyday purchases. The magazine also helps businesses grow by inviting readers to benefit from their products and services.
Earlier this year, Money Pages launched its first franchise in Ormond Beach, Fla. Money Pages is excited about expanding its savings footprint to help businesses and readers alike in 2014.
About Money Pages
Money Pages is a direct mail publication saving readers money on everyday purchases and helping businesses grow their bottom lines. Since its inception in 2001, Money Pages has grown to 13 corporate markets throughout Northeast Florida and Southeast Georgia, reaching over 560,000 homes monthly. Money Pages generates more than $1 million in local economic impact and offers more than $50,000 per month in potential savings for readers. Money Pages has two independently owned and operated markets as it begins to expand its readership base. The first began eight years ago in Greenwood, S.C. In 2013, Money Pages began franchise operations in Ormond Beach, Fla. and Cary, N.C. Money Pages also specializes in custom direct mail campaigns and interactive marketing solutions to help businesses further target their desired customers. For more information, visit http://www.moneypages.com or call 904-306-0086.
For additional information, interview and image requests, contact the Axia Public Relations firm at 866-999-2942, ext. 700.