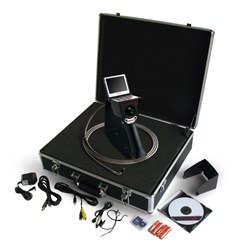 Our company has used borescopes for a long time, and we have used just about every type there is out there, but this scope is truly special. Great price and a top quality product with the lowest cost of ownership for a borescope I have ever seen.Gene M.
Traverse City, MI (PRWEB) November 27, 2013
December 10-12, 2013 the Javits Center in New York City will host the 2013 Chem Show, the premier event for process engineers and maintenance personnel within the chemical processing industry. Chemical processing professionals from all over the world converge annually at the Chem Show for a chance to learn about the latest techniques, systems, products and services in the chemical industry.
Casey O' Tool, sales consultant at RF System Lab, believes the Chem Show will be an excellent opportunity to show the benefits of the VJ-Advance video borescope to technicians and QC executives in the chemical processing industry. "The best selling point of the VJ-ADV is its functionality – the ability to operate the borescope with one hand is a truly unique and important feature. Exhibiting our products at events like the Chem Show allows us a great opportunity to put our scope into the user's hands. From there, our borescope pretty much sells itself." As in any industry, quality control and the proper maintenance of equipment are key factors influencing production quality and consistency. Having access to the right diagnostic tools, such as a modern video borescope, make the quality control, repair and maintenance tasks a lot easier.
RF System Lab offers the industry's only no-cost, two-week on-site borescope trial. The company will send you their VJ-Advance video borescope so that you can use it in your facility doing your inspections, to be sure that it suits all of your requirements. Visit Casey O'Tool at booth #756 at the show or contact RF System Lab today at 231-943-1171 to arrange to receive your demonstration unit.