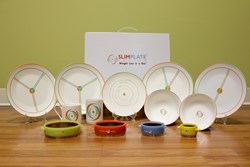 Portion control method is a healthier option compared to on-off diets.
Rock Hill, South Carolina (PRWEB) November 29, 2013
The SlimPlate System, created by two board certified physicians, launch a special sale for Thanksgiving. The SlimPlate System is a 13 piece portion control that offers a simple way to losing weight. The SlimPlates are made of high china that represent quality and are not easily broken. With the system users follow a four step program that optimizes weight loss efforts.
The SlimPlate System allows users to eat real food while restoring metabolism by eating 5 times a day. The portion control method is a healthier option compared to the on-off diets used today. Traditional diets only result in rebound weight gain once off the diet. The SlimPlate System teaches users to form better eating habits by adjusting portion sizes.
The SlimPlate System will be on sale for $20 off from Wednesday November 27th to Monday December 2nd. To redeem this offer use promo code THANKSGIVING when ordering online. However for Black Friday, the first 100 people to redeem the code BLK FRI will be able to purchase their set for $30. This is the lowest price ever offered to online customers.
In addition to receiving their new portion control kit, SlimPlate users are given the opportunity to register for the Ace Medical Weight Loss Center's new online weight loss program for free. Register for free with the purchase the SlimPlate system, or a current SlimPlate user. The first 100 users to register will receive the online weight loss program for free.
You can purchase the SlimPlate System at http://www.slimplatesystem.com.